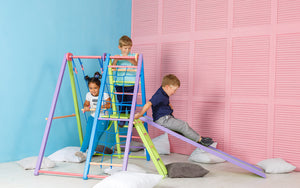 guide
jungle gym
How to Choose Wooden Swing Sets Under 500 USD
Wooden swing sets are loved by children because they are fun and remind them of a real adventure. Therefore, many kids will be absolutely happy to swing on a swing regularly. However, it may be a challenging task for parents to do this because not all city play zones have swing sets and many of these parks are overcrowded. Fortunately, there is an option to gift a swing set to children. In this case, price becomes an important part of decision-making.
Indoor over outdoor playgrounds
The first step of finding a good wooden swing sets under 500 usd is to make a choice between indoor and outdoor playsets. While outdoor playsets are usually bigger, they are also more expensive and it may be challenging to find a good outdoor playground under 500 usd. Moreover, all those parents who live in apartments, do not have an opportunity to put a playset outdoors.
In this case, an indoor playground with swing sets may be a perfect choice. Children can play on them for hours even when it's cold outside. There is no need for parents to go outside and spend time watching the kids waiting for their turn to swing.
One of the biggest benefits of children's indoor playground is that it usually includes several play features except swing sets and children will also develop their muscles and exercise regularly. For instance, there are up to 8 play features in EZPlay jungle gyms with swing sets among them. All these features provide kids an opportunity to climb, swing, pull up, jump, and do many other exercises. It is a well-known fact that toddlers love to climb and an indoor jungle gym will help them to indulge their passion.
A nice-looking indoor playground also adds aesthetic appeal to your home and kids will surely use their imagination to find themselves in jungles or on the pirate ship. In addition, you will be at peace knowing that your child is playing in a safe area. 
All in all, we highly recommend to make a specific focus on choosing an indoor jungle gym while searching for swing sets under 500 usd. 
How to choose the best jungle gym with swing sets
Jungle gym should be age appropriate
When choosing a home jungle gym with swing sets, the first thing you need to make sure is that it is appropriate for your child. This means that the size of the jungle gym you get shouldn't be outside your child's range. If it is, your child might end up injured, unable to use the equipment at all or just be plain bored if the wooden jungle gym is too small or too big for them.
Think About the Materials
The quality of the materials used to manufacture a residential jungle gym is directly related to its safety. Never compromise the quality and safety of playing equipment that your child will play on every day. Wood tends to be one of the toughest materials for manufacturing an indoor playset for toddler. It is also essential to check what paints and vanishes are used because they have to be non-toxic.
Compare the Price of the Products
The price of the product is always a factor. Luckily you don't have to walk away with nothing since there are affordable jungle gyms for sale in almost any category. You can find home jungle gym or wooden swing sets under 500 USD if you are on a budget, or create your own custom climbing world that will cost you several thousand.
Summary 
While choosing wooden swing sets under 500 usd the best choice for parents is to pay specific attention to indoor jungle gyms. An indoor playground with swing sets is a great gift for kids. It can enhance a child's emotional, social, and intellectual development. In addition, your child will never be bored on their own or with friends over if you own a home jungle gym. When choosing one, make sure to pay attention to its price, materials, quality, and age range. By doing so, you will assure your child has a safe and excellent play time.
One of the popular market alternatives is EZPlay Panda Playground, which is good for kids aged 1-5. It is made of a natural sturdy ash wood and has an optimal size even for small apartments. You can use Panda jungle gym when kids want to play and it takes only several minutes to put it on place because it is foldable. There are 6 play features included and Panda Playground is absolutely safe for kids. 
We hope this guide was helpful and it will be easier for you to choose a great wooden swing sets under 500 usd to make your kids happier!