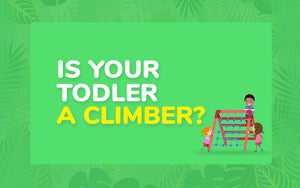 Is Your Toddler a Climber?
If your toddler recently started to explore the world vertically, then you might have already experienced a few heart-stopping moments. Despite what the parental instincts inside might tell us, climbing is a very important and natural stage for toddler. It affects the development of gross motor skills, dispose of extra energy and have a little adventure while doing so. In the future, it can also help greatly if the child decides to pursue sports.
It's always adorable when your toddler first tries to pull up on the couch, and luckily mother nature is smart and the chances of hurting ourselves when we're little are much smaller than when we're adults. So, is your toddler a climber? Of course! We all were.
Detecting a Climbing Toddler
Well, detecting a little climber is quite easy. It's not really a matter of "if" but a matter of "when". Just pay attention when your child shows preference towards playing on the stairs instead of on the floor. Or, when you will start catching your toddler in an attempt to grab a certain toy from a place where they can't reach. Even seeing your child tiptoe very often can be a signal that they might start climbing to new heights soon. It is very likely that, shortly after noticing these first signs, your child will try to scale every piece of vertical structure he or she comes across.
And that is only natural, because flat surfaces are boring to play on. Easy achievements are stale, and we are full of cliches about reaching new "heights" from the very early age. 
The kids who find climbing a thrill are also a thrill to their parents. If practiced in a safe environment, such as on an indoor toddler climber toy, surrounded by baby foam mats, it can actually be very beneficial to your child. It can foster muscle development, improve coordination, problem-solving skills (remember getting stuck thinking where to climb next?), and even self-confidence. This can relieve the parents from worrying about the kids safety since trying to stop a climbing toddler is almost impossible and can be counter-productive. 
Why Toddlers Climb?
The simple answer is – because they can. When infants start gaining greater control over their body, they become more confident and more curious. They are more than eager to explore the world on their feet. And, once your child finds the power in their body, they will constantly try to push the boundaries of their capabilities. It works towards both, mental and physical behavior of any child. They start asking lots of questions and going places they've never been before, even if "going" has a vertical trajectory.
How to Manage a Climbing Toddler?
The only way to completely stop a climber is by removing every single climbable object from your home, and even then the kids will find ways to climb the walls. So is there a point in trying to stop them?
Even though climbing can seem worrisome at times, you don't want to stop it because of all the advantages that come with it. Climbing is a great way to do some exercise that will help your child build agility, strength, and endurance. What you can do instead, is to provide a proper climbing environment.
The best way to help a little climber satisfy all their needs is by providing proper sets of equipment. The first thing that comes to our minds is to supply the kids with an indoor EZPlay toddler climber with slide and a soft foam mat along with it. We are a bit biased, even though the convenience of foldable design, modifications and adjustable features pales in comparison when it comes to smart play. However the list does not stop on our own jungle gyms.
Any playground, playhouse, or plaything would satisfy the child's curiosity for a long time, even the vintage ones that might lack some modern features. These are a great way for your child to play and practice climbing activities while staying safe and clean within your home the entire time.
You can also research how to build your own homemade DIY obstacle course if you are confident in its durability or give your child some toys that are safe to climb on, such as:
dome
cube
cushion castle
cushion wall or stairs cover
padded cardboard tunnel
There are many great ideas that can be found in the community, just make sure that if you do go for a custom homemade toddler climber gym, that it's safe, strong and made out of standard non toxic wood, plastic or other materials. Just like the ones we have here on EZPlay *hint*hint*. If you are on an economy budget, you can check Amazon for the best value for sale or clearance.
Keep in mind that the main reason behind a toddler's desire to climb is the need to be active. Why not provide your child with what they need? Who knows, maybe in 20 years, he or she just might become the next Catherine Destivelle or Alex Honnold.