Panda Playground Toddler Jungle Gym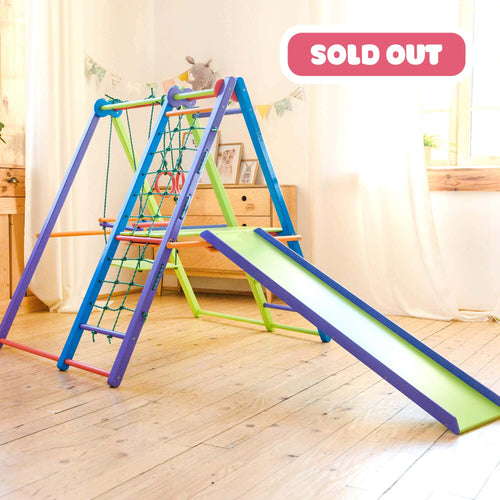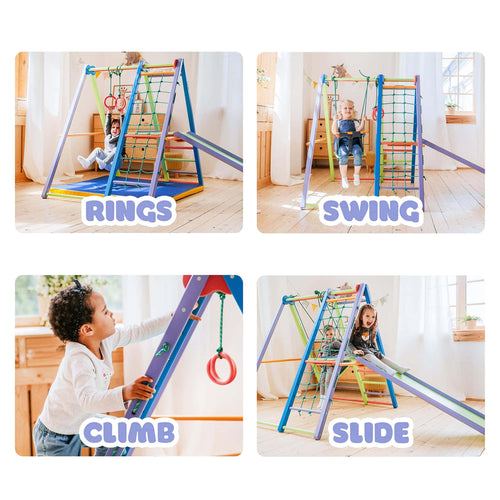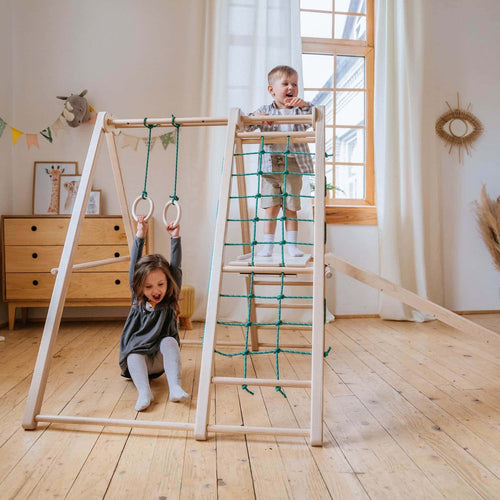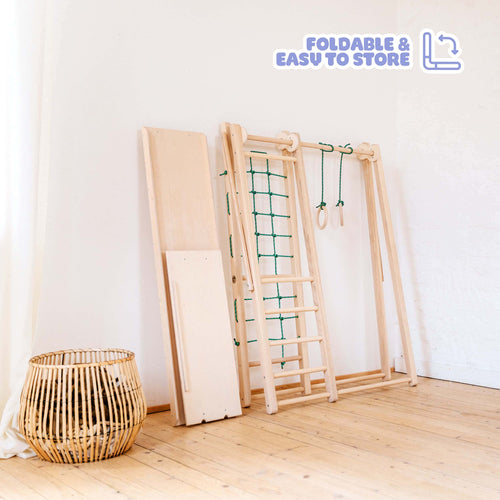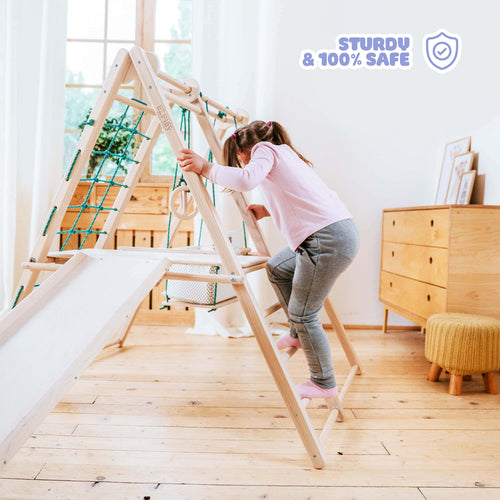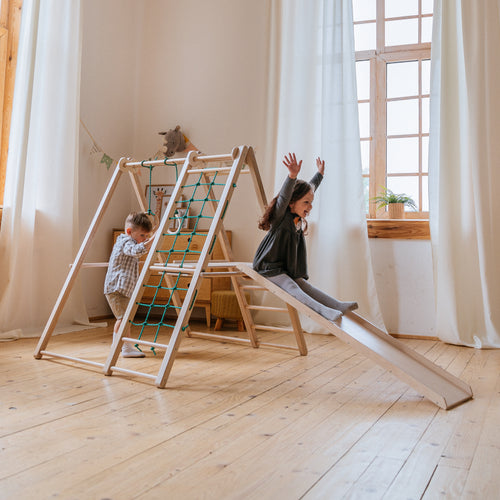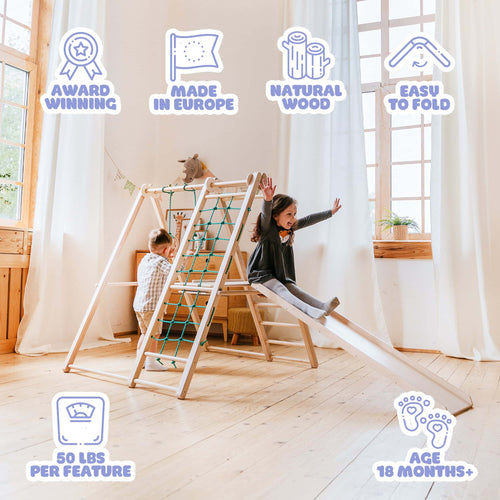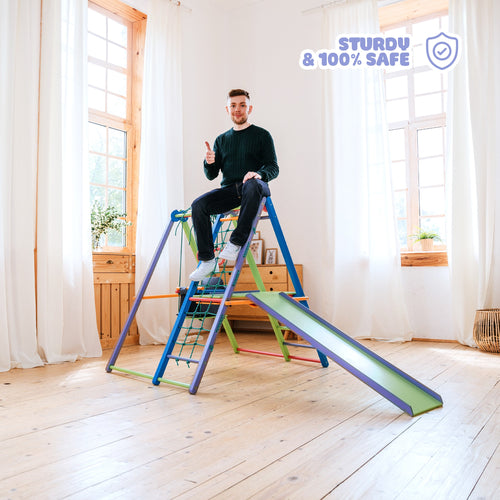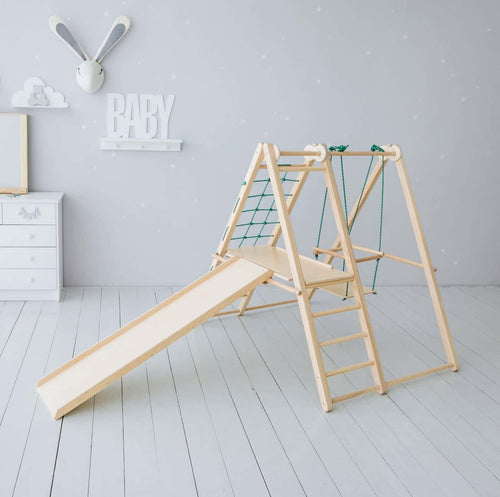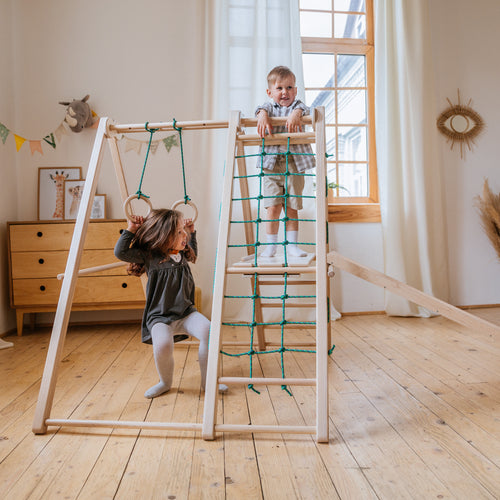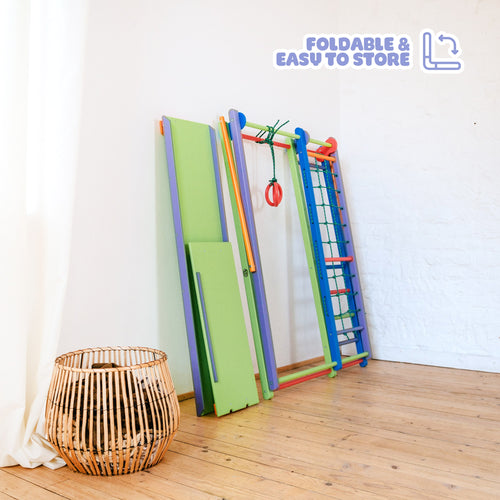 Explore the Product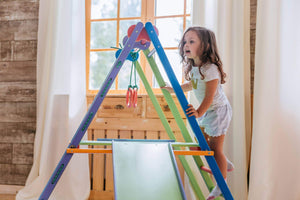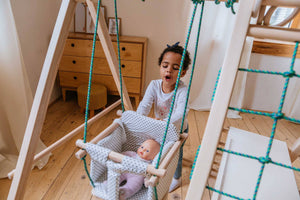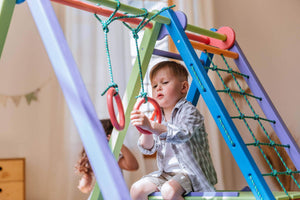 Improves Balance & Motor Skills
On the Panda Playground, your children can learn and develop their balancing skills by climbing ladders, swinging on the swing, and sliding down the slide.
Boosts Creativity & Imagination
With the Panda Playground kids will use their imaginations to create and explore new to them environments where they can master and solve a variety of obstacles in unexpected ways.
Develops Brain Cognitive Function
Physical activity is important for healthy cognitive development. Active Play assists children in developing new competencies that contribute to increased optimism as they understand and master their surroundings.
Panda Playground Toddler Jungle Gym
Can this playset be used outside?
Yes, you can use the Panda Playset outside in the summer. As with all wood products, to protect it against extra wear we highly recommend storing it indoors during the fall/winter season.
How long does shipping take?
Orders are processed in 1 business day. We ship from Miami, FL and delivery takes 2-5 business days depending on your location.
Recommended age range is from 18 months - 4 years. Panda playset can accommodate multiple kids playing on it at once and kids older than 4yr love to climb, swing, and slide on it.
Yes, the swing is included. The padded insert for the swing is sold separately.
Panda Playground is our most versatile indoor jungle gym for toddlers
Once assembled, this indoor playset can be folded up and placed wherever you like. Splinter-free ash wood construction provides a slim yet sturdy base-frame that is easy for one person to carry. Let your toddler's imagination run wild in the safety of your own home.
5 Play & Development features
Folds for Easy Storage
Premium Ash Wood, Quality and Finish
Recommended age: 18 months+
98W x 52H x 52D
Playset Weight – 60 lbs
Weight Limit - 50 lbs per feature
Can Be Used Outdoors!
EZPlay Panda playset is an excellent gift for toddlers this spring! Your little ones will be able to play and exercise both indoors and outdoors, which will have a positive effect on their muscle development. Give the gift of exercise, imagination and endless fun!
At EZPlayToys, We Take Care of You and the Planet.
At EZPlay our commitment to you and the planet is to use the highest quality materials and avoid using plastic. We use sturdy ash wood from Europe and quality fittings to produce long-lasting play structures and treat them with water-based paint and solvents to a high level of craftsmanship. Our handcrafted construction methods and an unwavering attention to detail make sure that every EZPlay indoor playground is built to last.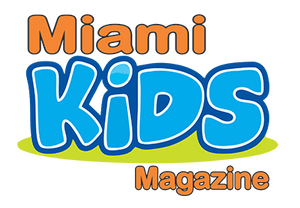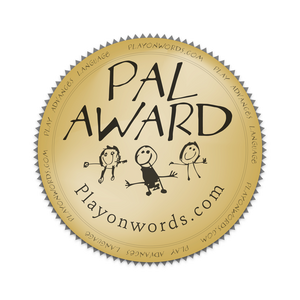 Panda Playground Assembly
How to Fold Your Panda Playground
Turnaround
We process and ship orders Monday through Friday 10AM – 5PM (excluding U.S. Holidays). In most circumstances, orders placed within those times will ship same day, but our official processing time is up to 2 days in case of increased order volume or inclement weather/delays in carrier pickups. The amount of time the order will take to get to you will depend on the shipping method you've selected.
Carriers
All orders are shipped via UPS or FedEx Ground.
Order Tracking
Once your order is shipped you should receive a confirmation email with the tracking number. If after 2 business days of placing the order you still have not received a tracking number, please contact our support team at support@ezplaytoys.com
Shipping Rates
The rate charged for the shipping of your order is based on the weight of your products, and your location. Before the final checkout page the cost of shipping will be shown and you have the option not to complete the order if you for any reason change your mind. Sales tax may be collected for non-labor items in Illinois.
Returns must include ONLY the defective pieces. Do NOT include any fully functional items or pieces into your Warranty & Returns request. Please keep the original packaging and any non-defective items as we will only warranty and replace the defective pieces.
If the product has physical damage, damage from outside weather and/or evidence of tampering with the product, it will NOT be eligible for warranty exchanges or any refunds or returns.
If you are not familiar with how to install or use the products you received, please take some time to go over the included instructions or feel free to contact us with any questions as we are always glad to help.
Returns Shipping – Please contact our support staff at support@ezplaytoys.com to start the Warranty & Exchange process. Our team will work with you through the process. Please note that returns shipping is NOT pre-paid, but will be refunded upon receipt of defective items. Customers are responsible for shipping the RMA items to EZPlay, unless you received a DOA or a wrong item.
Easy to Store
Panda Playground gives kids an easy access to a fun playground inside the comfort of your own home. There is no need to worry about rain or snow, frigid colds or sweltering heat, and parents can always watch their children while tending to other things. After an easy initial setup, each unit is ready for play within a few minutes.
Safe and Sturdy
While it's required for parents to supervise kids when they are playing on the playground, it is essential to note that Panda Playground is great for kids to get creative on. The playset is sturdy enough to carry the weight of up to 100lbs, which makes it possible for toddlers to play together.
High-Quality Details
We use sturdy ash wood and quality fittings to guarantee that our indoor jungle gyms are 100% safe for kids. Our attention to details ensures that you'll get a long-lasting play structure to use for many years. We use only water-based non-toxic paint and solvents to work the wood to a high level of craftsmanship.
Customer Reviews
Okay jungle gym
It's great and my children love it. The only reason o deducted two stars is because I had an issue with mine once together. I contacted customer support and they told me to repeat step 7 and flip a piece and that can't be done. I think I was sent two pieces for one side so when it's let out the skinny piece that connect both sides is not level and is hard to latch. So the lack of help to fix the problem for a costly item for my kids is why I deducted two stars.
05/03/2022
Jennifer

United States
Awesome
This has been amazing for us for our child with autism. She has a way to play regardless of the weather. This gives her a calm playground without the stress of other kids. It allows her to get her energy out. It's often to hot for her outside so this has been great. We used this for a solid two years before she outgrew it.
05/03/2022
Jennifer

United States
Love this
This has been amazing for us for our child with autism. She has a way to play regardless of the weather. This gives her a calm playground without the stress of other kids. It allows her to get her energy out. It's often to hot for her outside so this has been great. We used this for a solid two years before she outgrew it.
03/09/2022
Yasmine B.

United States
Best purchase ever
This is by far the best purchase I've made for my two year old son. When we first put it together he was playing with it the second the last piece was installed. I've had it for almost two weeks and he has played on the jungle gym everyday for hours at a time. The design is amazing, there's a good variety of play options so he never gets bored. I was a little worried since they had sold out of the colored jungle gym but I am so glad I got the wooden design. The wood is smooth and there's no sign of splintering anywhere so I don't have to worry about my little one getting hurt. It also looks very aesthetically pleasing in his play room and doesn't take up a huge amount of space. I would definitely recommend this product to everyone!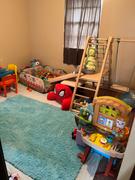 01/06/2022
Anastasia D.

United States
Satisfied
We gave this playground to our daughter for her second birthday. She is very happy. Thank you