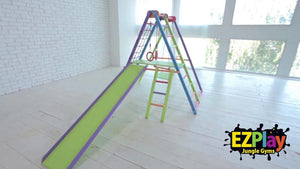 benefits
guide
health
A Playground For All Seasons
While living in a sub-zero climate sure is a great reason to have one of our playgrounds, it really doesn't stop there. Not by a long shot.
Yes, freezing cold can be a bummer when your kids want to go out and play on the frozen swings (The amount of layers to put on can be an exercise by itself), but what about smoldering heat?
Cool Under Heat
In 2012, South Carolina broke a record heat temperature in the state by reaching 113 F. Now imagine the record highs in California, Nevada, Arizona. It's not uncommon for many other states to feel like the surface of the sun each Summer. 
The high temperatures make the air difficult to tolerate, let alone the metal and even plastic parts of most outdoor playgrounds, impossible to touch. To avoid the pain of not being able to play, many parents have been choosing one of EZPlay wooden jungle gyms for sale as a solution to seasonal heat, as well as cold and rain.
Who'll Stop The Rain
Hawaii, Louisiana and Alabama are considered the rainiest states in the US. Not being able to go out and dispose the kids energy during monsoon can become frustrating really fast.
We've had parents express great relief having one of EZPlay indoor playgrounds at hand during these times. Just imagine how difficult it is for a child to be stuck at home for a long period of time without the fun of active play.
Wintertime Love
And of course, our playgrounds are a great solution for when snow is your neighbor throughout most of the year. Mount Washington in New Hampshire for example keeps it cool with average of 118 snow days in a year. Just thinking about this number makes one want an indoor fitness gym, wooden playset and a Starbucks all right in a faux fur covered basement.
Even if we ignore the unique nature of New Hampshire, there's still enough states with at least 3 months of constant snow in any given year. That's quite enough to justify getting a playground that you can put in an out of your storage in minutes or just keep it up all the time if space permits.
A Plan For All Seasons
While kids are playing in the room next door, the parents can have more free time to finish some extra choirs or rest after a busy and stressful week under the pleasant care of air conditioner, heater or a simple roof.
Knowing that the children are safe, warm and clean is what the EZPlay is all about. Getting the fun and exercise needed to sleep well at night and stay healthy throughout all seasons is what the EZPlay indoor playgrounds are all about. Our homes are the safe havens from the elements and having a playground inside, creates a place where kids of all hyperactive scales can dispose their energy, come rain or come shine.