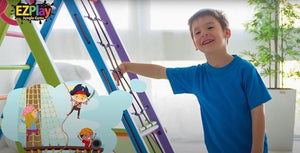 Our Favorite Imagination Places Made Out Of Kids Jungle Gyms
Kids jungle gyms and playgrounds in general have been a source of endless entertainment for children for a long time now. They are probably the most amusing play equipment where children get to let go and have fun. Some occupational therapists claim that jungle gyms are the best form of developmental play for children.
All the grown-up talk aside - when kids play on a bunch of sticks and tubes nailed together, they see it as a whole different setting. A mountain, a ship, a castle or a forest. Adventures await on those monkey bars and dangers hide beneath those slides. The world of fantasy and imagination... 
Imagination Places
We all did it. As kids, we all imagined ourselves in a very different place while we were on a playground of any kind. The imagination was the true masterpiece that allowed children to lose themselves in various imaginary places. Children engaged in play using fantasy and creativity in order to shape their own worlds and solve the challenges they made for themselves. Fortunately for all us parents, it still goes on! Kids continue to play and think of new and amazing places to go with their friends. Below are some of our favorite ones. 
A Princess Castle
Many girls dream of being a princess and having her own castle. Take it from EZPlay - building a princess castle is actually not easy at all. However, your little girl (or girls) can definitely use their imagination to turn their jungle gym into a castle. Then a child can always invite her friends over and together they can rule over an imaginary kingdom, host balls or declare wars, save the princess (whom are we kidding, as if "boys" and "needs saving" aren't synonyms), or perhaps make new friends with the border kingdoms.
A Pirate Ship
Kids may like the idea of owning their castle, but who can resist sailing a pirate ship? Rope ladders, planks, masts and sails! Sounds familiar? Well we got it! New uncharted lands await where the treasures are so vast and the freedom from bedtime and waking up for school tastes so sweet.
A Fire Truck
Well, it is a bit hard to understand how a jungle gym can become a fire truck for us adults, but when it comes to kids imagination, everything is possible. Literally. Everything. They may use one part of it as their imaginary vehicle and the rest as the place where their rescue mission takes place. More often than not, the fire truck will be accompanied by a horde of pixies, using their minds to navigate through the lava because a volcano needs to be extinguished. Everything is possible. 
Wooden playsets are a great way to provide your child with endless hours of fun. Besides exercise, your child can greatly benefit from it in many other ways as we can see. Not only will he or she get to develop their imagination or creativity, but also improve their social skills and also bond with their siblings, friends, or relatives. If you are considering buying a kids jungle gym, make sure to check out EZPlay and our sets for sale.