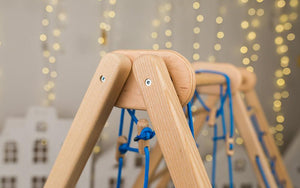 ash wood
Why Is Ash Wood Better For Playground Construction
When choosing a kids playground, it is very important to pay attention to the materials it is made of. There is an abundance of mates available on the market – plastic, metal, wood and many different mixes in between. But, which one of them is the best for the playground you'd want inside your home?
One type of wood that stands out for playground construction is the ash wood. We decided to choose this particular material because of its sturdiness and durability. All EZPlay equipment is made out of ash wood with thought of the safety of all the children who would use our play equipment. No splinters nor unexpected cracks or twist will appear on playgrounds made out of quality ash wood.
Ash Wood vs. Other 
Ash wood is a heavy hardwood and its grain is slightly less apparent to that of the oak wood. Ash wood is often a more expensive option over oak. It is used for the construction of premium furniture items, baseball bats and many other products that require extra strength.
One of the best characteristics of ash wood is that it is completely odor-free. Ash wood is perfect for playground construction because it is quite "user-friendly." This means that even though ash is a hardwood, it can bend well and have a smooth finish since paint adheres incredibly well to this type of wood. In addition, this type of wood takes easily to nails, screws, and glue.
So, if you ever need to adjust or fix something on your EZPlay jungle gym or playground, you will only need to use basic household tools. What many parents will love to hear is that ash wood (and playgrounds made out of it) is resistant to decay and ash wood playgrounds require very little maintenance. One of the greatest assets of ash wood is the fact that it is shock resistant. It has the best strength to weight ratio meaning that even though it seems to be lightweight, the wood is very durable. Our play gyms for sale are made out of ash wood can handle plenty of wear and tear.
Kids Playgrounds Out Of Ash Wood
As already mentioned, every EZPlay kids playground is made out of strong and durable ash wood. This means that your investment in our play equipment will be worth it since all our products were made to last for quite a while. Every wooden part of our playgrounds is chosen carefully, inspected thoroughly, sown, and sanded for smooth and rounded edges. And, all parents love round edges since they are much safer for their children.
Besides making our playgrounds durable, we also make them attractive and cheerful in terms of their design. As we all know, kids love colors; and, all our items are colorful when you choose the color option of our jungle gyms.
In addition, all items are weather-proof and resistant to mold, rot, and any little outside creature that might be attracted to your ash wood playground.
However, what may happen to every ash wood playground after being exposed to outside elements for years is that the color may fade away. Fortunately, this will not affect the quality nor the structural integrity of the playground and you may repaint it with a non-toxic water-based paint. You can maintain the original color or choose a completely different one.
Every EZPlay kids playsets is a unique and almost timeless product. All of our products are carefully thought through and designed according to the latest trends.