Panda Swing Insert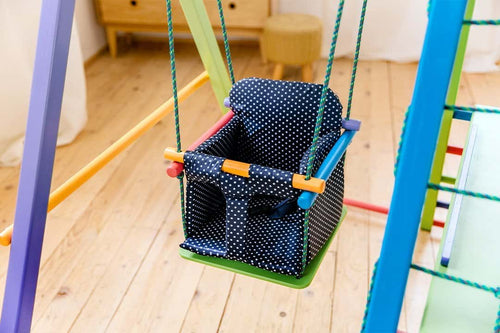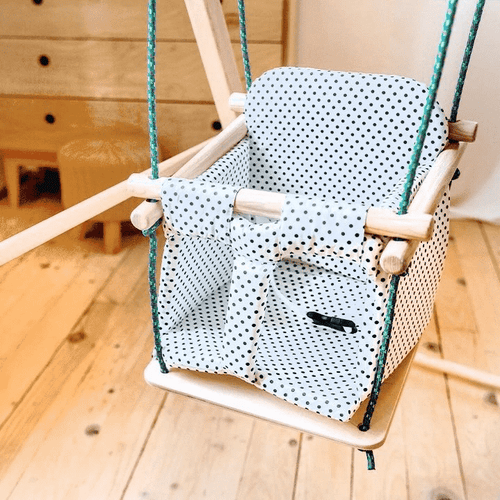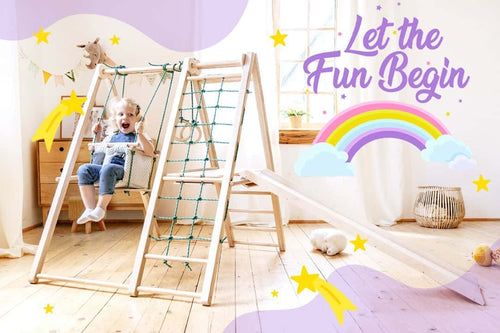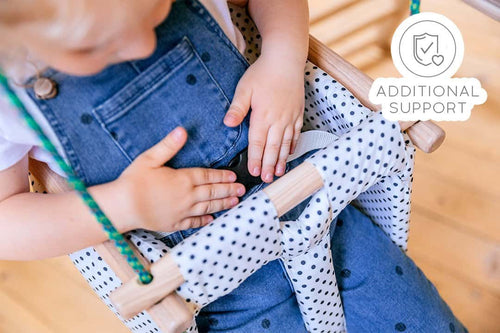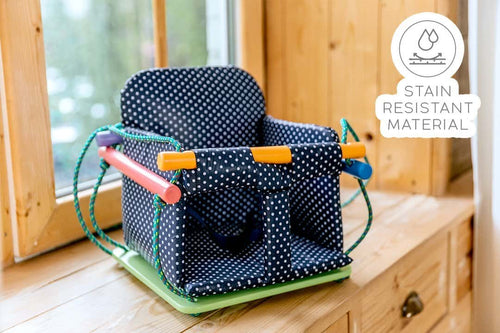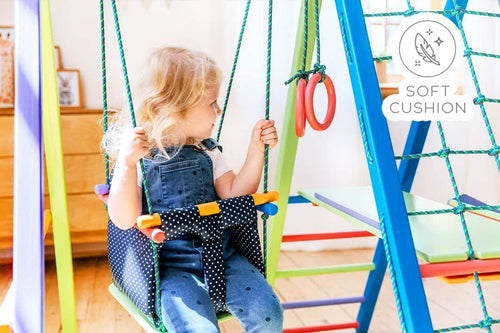 Explore the Product
Does this include the swing?
No, this includes only the padded insert to be used with the Panda Playground swing.
What products can this be used with?
Panda Swing Insert is designed to be used ONLY with the Panda Playground.
Is this required to use the Panda Swing?
The swing insert is designed to provide extra cushioning and support for smaller children, it is not required to use the Panda swing.
Panda Swing Insert
This chair insert is great for infants and toddlers and is designed to keep a child safe and secure inside the swing seat. The insert features multiple straps, secured around the seat, ensuring maximum comfort and safety for a child while he/she sits in the swing.
Provides parents/guardians with a soft collapsible child seat insert for EZPlay Panda swing designed to offer additional comfort and support for a child from 18 to 36 months of age.
Resembles a booster seat with both sides extending up below the child's arms, providing support and ensuring the child is more secure on both sides of the swing.
Made of stain resistant materials
The seat is soft and pleasant to the touch
Easy to attach
At EZPlayToys, We Take Care of You and the Planet.
At EZPlay our commitment to you and the planet is to use the highest quality materials and avoid using plastic. We use sturdy ash wood from Europe and quality fittings to produce long-lasting play structures and treat them with water-based paint and solvents to a high level of craftsmanship. Our handcrafted construction methods and an unwavering attention to detail make sure that every EZPlay indoor playground is built to last.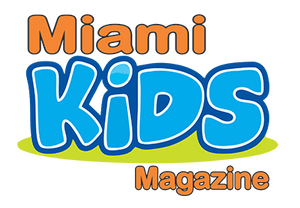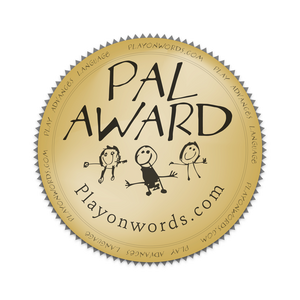 Turnaround
We process and ship orders Monday through Friday 10AM – 5PM (excluding U.S. Holidays). In most circumstances, orders placed within those times will ship same day, but our official processing time is up to 2 days in case of increased order volume or inclement weather/delays in carrier pickups. The amount of time the order will take to get to you will depend on the shipping method you've selected.
Carriers
All orders are shipped via UPS. We offer UPS Ground, UPS 2nd Day Air and UPS Next Day Air services.
Order Tracking
Once your order is shipped you should receive a confirmation email with the tracking number. If after 2 business days of placing the order you still have not received a tracking number, please contact our support team at support@ezplaytoys.com
Shipping Rates
The rate charged for the shipping of your order is based on the weight of your products, and your location. Before the final checkout page the cost of shipping will be shown and you have the option not to complete the order if you for any reason change your mind. Sales tax may be collected for non-labor items in Illinois.
Returns must include ONLY the defective pieces. Do NOT include any fully functional items or pieces into your Warranty & Returns request. Please keep the original packaging and any non-defective items as we will only warranty and replace the defective pieces.
If the product has physical damage, damage from outside weather and/or evidence of tampering with the product, it will NOT be eligible for warranty exchanges or any refunds or returns.
If you are not familiar with how to install or use the products you received, please take some time to go over the included instructions or feel free to contact us with any questions as we are always glad to help.
Returns Shipping – Please contact our support staff at support@ezplaytoys.com to start the Warranty & Exchange process. Our team will work with you through the process. Please note that returns shipping is NOT pre-paid, but will be refunded upon receipt of defective items. Customers are responsible for shipping the RMA items to EZPlay, unless you received a DOA or a wrong item.
Customer Reviews
Granddaughter loves it
Now if her sister doesn't push her too high
10/21/2021
Megan E.

United States
Baby swing
My 9 month old loves the baby swung insert. However the swing tilts so far forward, that she is hanging against the front bar. I put a blanket under her to bump up the frontside. Abs when she is in it, her weight pulls the back Velcro off so her head is just resting on the wood bar.
08/27/2021
Erica B.

United States
Great product, easy to assemble
So far, our kids love it. It was relatively easy to assemble, and has been a great way to burn off energy indoors.
05/26/2021
Emilynne A.

US
Easy to use, worth it for little babies
I almost didn't buy this because I didn't think I'd need it, but I'm totally glad I did--my 2 yo very much prefers the cushion and it's perfect for keeping him from sliding through the bars. It's also super easy to put on and remove so my older kiddo can still use the swing too!
05/17/2021
Su P.

US
Must have item!
extra comfy and safety. This is good quality insert! highly recommend!