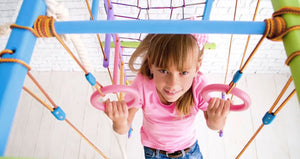 benefits
education
health
homeschooling
pe
A Solution to Physical Education in Homeschooling
Most daycares and preschools have an indoor gym in addition to their outdoor playground but what is a parent to do when it rains for what feels like weeks and it is impossible to take a child to the local park. Even the best bad-weather clothes only go so far. Not to mention that it is not particularly fun for parents to get their wet and muddy kids home. Few car interiors look good with mud all over.
Parents with "homeschooled" children thus need to come up with other solutions to ensure regular physical education, but who has the space to build an entire indoor gym in their home? Sure, there are indoor playgrounds in most urban areas that you can take your children to, but, again, that means getting them in the car first. In addition, most of these indoor playgrounds charge quite a hefty entry fee, often for the parents as well, even if the parents are not going to play. Therefore, this is hardly a viable option in the long run.
Finding How To Exercise While Homeschooling
What if there were small, portable, and completely collapsible indoor playgrounds for children that could accommodate a variety of exercise and developmental needs in children who are raised in the home?
EZPlay Jungle Gyms are exactly that. They provide a safe and secure play environment for kids in the smallest of spaces, which makes them ideal for "homeschooling" families in townhomes and apartments that don't have a yard or designated rec room.
These playgrounds allow children to play at home in any weather and ensure that they get enough exercise no matter the time of year. Furthermore, as the name suggests, EZPlay Jungle Gyms make it easy for parents to supervise their children while the children engage in fun, active play that allows them to stay strong physically, stimulates their growing minds, and encourages socialization during safe, at-home playdates.
Strong And Healthy Alternative With Many Options
Instead of just lounging at home in front of the TV on a rainy day or having only non-physical play options, EZPlay Jungle Gyms are ready to go any time the kids are. Today, so many toys and opportunities for play are pre-programmed and only have one outcome. Dolls come with a limited range of words they can say, tablet games often expect kids to arrive at exactly one solution to a problem, and everything blinks and plays music. Anything to keep a child entertained and content when cooped up. What really will make a child content, though, is if they are able to deal with quiet times, if they can entertain themselves with simple things, and if they have the opportunity to develop real imagination.
It Does Not Stop At Homeschool PE
EZPlay Jungle Gyms foster exactly this. Not only do they assist children in their physical development and help them get their energy out when confined to the house, they also can be used for imaginative play:
Throwing a blanket over them to build a fort,
Using the ladder to climb to the sky to touch the stars,
Letting various dolls and teddy bears participate in the swinging and sliding action.
Older Kids And Siblings
They are spacious enough to allow several children to play on them at once and the smallest one accommodates children as young as one year (needless to say that the paint is non-toxic and safe even for chewers). The bigger wooden playset - Koala Adventure will keep children up to age 10 entertained for hours and even after this age these high-quality jungle gyms will be sure to encourage the older kids to play with their younger siblings.
Since everything is so compact and in one place, older children will have a really easy time supervising the little ones, thereby developing their sense of responsibility, which is often an important component of homeschool life if there are multiple children in the family. Given a big enough car (think minivan), the playgrounds can even be brought along on family trips or on visits to the grandparents.
Younger Kids And Learning
For timid children who are not natural climbers, EZPlay playgrounds are ideal in helping them learn to climb and experiment with balance and their physical abilities in a safe environment, without running the risk of falling off public playground equipment or being pushed and shoved by other kids in the park. Once they have mastered the Panda Playground (indoor jungle gym for younger kids age 1-5), they will surely be ready for the Koala Adventure and will be able to hold their own at any public playground you can find.  
EZPlay Toys are a great addition to any house and really lack competition when it comes to making the most out of physical play in a tight space.
Tell us how you handle homeschool PE and share your pics on social media.