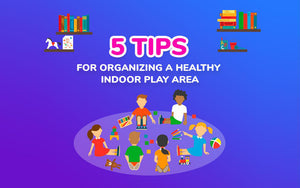 5 Tips For Organizing a Healthy Indoor Play Area For Kids
A designated indoor play area is a must-have for any parent.
It helps eliminate the chaos and clutter that can come with not having a designated, contained play space, and it gives your kids a place where they can freely have fun, express themselves, and explore their imaginations.
Setting up a playroom, however, can be somewhat of a daunting task. With so much already on your to-do list, how will you manage to repurpose an area of your house into a playroom, too?
We know that organizing a new playroom for your kids can be a big undertaking, so here are five tips to help you organize a healthy indoor play area for your kids.
1. Remove All Unnecessary Distractions
One of the first steps in organizing your indoor play area is removing all unnecessary distractions so that your kid can focus on play.
You want to be sure that your playroom isn't too "busy." It shouldn't be in an area with much foot traffic, and if possible, you want your playroom to be a separate room. This way, your kids can have their own space to focus - even when you have guests over.
Removing distractions also means making your kids' playroom as screen-free as possible. Your playroom shouldn't have a TV or computer, and you should generally limit technology in the room in general. However, small music players or educational toys might be an exception.
2. Make the Room Inviting
You should also design your new playroom to be fun and welcoming.
While you don't need to be a Pinterest expert to make a great space, you can make your child's playspace warm and inviting with a few simple tricks.
First, you should choose an area with plenty of natural light. A well-lit space is inviting and ensures that your kids won't strain their eyes while reading or drawing.
You should also incorporate bright and fun colors on the walls, cabinets, and in the decor. Although you shouldn't make the area too busy, fun pops of color throughout the room will create a fun and enticing space for your kids.
Finally, you should also customize the space for your kids. If you kid has an extensive stuffed animal collection, then you can put them on display, or if your kid loves space, you can make a solar system themed playroom.
3. Create Separate "Zones" for Different Activities
One of the biggest benefits of adding a playroom to your home is reduced clutter, but if you don't keep your playspace organized, you'll end up with an even larger mess!
That's why it's so important to create different "zones" for various activities. You can make a reading nook in one corner, a physical activity zone in another, and an art table in the middle of the room. This way, your kids know where to find their favorite toys and activities, and they'll know where to put their things away when they're finished.
Creating different zones can also help your kids stay focused on one activity. If they have their dollhouse and their books in the same area, for example, then they might forego their reading in favor of playing with other toys.
By establishing different activity zones, you'll facilitate an organized and focused play area for your kids.
4. Gather Toys and Equipment
As you create different play zones for your kids, you'll begin to take stock of the different toys and games that your kids have. You might notice that you have way too many dolls or building blocks, or you may realize that you need a few more things to make your playroom complete.
Adding a few new toys, books, and games to your playroom will get your kids excited about using their new space. New books will get them excited to curl up in their reading nook, and a new indoor jungle gym will have them running around and exploring their new playroom in no time. There are also other great benefits of an indoor jungle gym playset that can give your kids an opportunity to experience a real adventure without even leaving their home.  
As you design your kids' new play area, you should think of a few meaningful additions to get your kids excited.
5. Encourage Free Play
To allow your kids to get the most out of their playroom, you should allow them to play freely and enjoy their new space.
Encouraging free play has numerous developmental benefits for your kids. It helps them explore their imaginations and think creatively while allowing them to become independent and rely on themselves to create their own entertainment.
It's also a much-needed break for you! When your kids have a fun and safe space to play freely, you'll be free to do the laundry, chat with friends, or just kick back and relax.
By following all these simple steps you'll create a convenient indoor play area that will surely inspire your kids to be active. If you want to know what games can kids play indoors check our 24 Fun Activities For Kids list to find some amazing ideas.