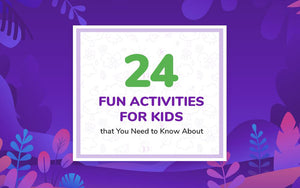 24 Fun Activities for Kids that You Need to Know About
All parents know the importance of having plenty of fun activities for kids.
Physical activities like soccer, baseball, or playing with inside jungle gym get your kid moving and are critical to their physical development, and creative activities like puzzles and arts and crafts stimulate their minds while enhancing their fine motor skills. 
However, coming up with activities to do all of the time is easier said than done - especially when the kids are home for summer break or even for a long weekend. You can take them to local parks and playgrounds, but you'll need to mix it up from time to time to keep kids engaged and interested.
This goes double for times when the outside is out of the question. While it's relatively easy to keep kids active when they have the whole outdoors to explore, coming up with things to do when they're trapped inside by frigid temperatures or raging thunderstorms is a different story. You don't want your kids running rampant around the house, but sitting them in front of the TV for hours isn't what you want to do, either.
The good news is that there are plenty of fun games and ideas to implement together with your kids. We created a list of 24 amazing activities that will keep children engaged and happy! Are you ready? Let's do it:
1. Fun DIY Games
Why buy games like matching tiles, cornhole, or even bingo when you can make them yourself?
DIY games like make-your-own yard games or indoor games sets are the perfect activity for parents looking to help their kids flex their creative and actual muscles. They allow kids to learn the joys of making something with their own hands and then actually using it.
You can make simple games like matching tiles out of cut-out cardboard squares, or you can take on more complex ones like outdoor plinko games or bowling games out of toilet paper rolls.
You can also buy plenty of kits like outdoor games your kids can paint or build-your-own kits. These can be helpful if you're not exactly handy.
Regardless of your child's favorite game, you can make a great DIY version at home with a great personal touch.
2. Go on a Family Run
Family runs are great ways to promote physical fitness for the entire family.
Whether you head to a local park or take a drive out of the city to a nearby lake or nature center, going on a family run is a great way to get your kids active while getting you and your partner moving as well.
It's also a great tradition to start before your kids get older. Instilling the value of exercise with your children will serve them well into their teen years, and physically active teens will enjoy going on runs with family.
Plus, you can get creative with your location. While neighborhood runs and local parks are certainly fun, your kids may have a better time exploring new areas as a family.
3. Blow Bubbles
Blowing bubbles is a great way to entertain your kids on a warm summer day. What's even better that this activity is a great way to immerse yourself in your childhood memories.
Your toddler and younger kids will have a blast popping bubbles that you blow, and they'll be fascinated by blowing bubbles themselves.
With older kids, you can add to this activity by turning it into a science lesson about how bubbles work, making it a fun educational activity.
You can also take your own spin on blowing bubbles by making DIY bubble blowers out of craft supplies like pipe cleaners and everyday items like wire hangers. This can make for a fun-filled afternoon of crafting and bubble blowing.
Blowing bubbles is a simple activity, but with a few extra steps, you can make it an engaging afternoon for your family.
4. Grab a Hula Hoop
Hula hooping is a fun activity for kids of all ages. Younger kids will have a blast trying to master the skill of hula hooping, and older children will enjoy having competitions to see who can hula hoop for the longest period of time.
Plus, all you need to do is run to the store and buy a few inexpensive hula hoops for your kids to use.
You can also hula hoop both outdoors and indoors. While you generally want to be outside, you can also clear some space inside your home for a hula hooping contest on a rainy day. This type of activities is fundamental for children's health because indoor physical education games are beneficial for mental and physical strength.
Hula hooping also builds core muscle skills for kids without needing to do straining - and boring - exercises like crunches.
Overall, hula hooping is a great way to keep your kids active while promoting healthy competition.
5. Throw a Dance Party
Want to know the best way to fix the rainy day blues?
Throw a dance party! 
Dancing is a great way to get your kids moving, and it also helps them develop rhythm as they groove along to the music.
It's also easy to do - all you need is a device that plays music and some space for your kids to dance. Kids of all ages will also enjoy a good dance party - and letting them pick the music will help them develop an appreciation for music.
If your kids seem to enjoy dancing, you can also sign them up for dance classes at local studios or even community centers.
6. Do Yoga with Your Kids
You may already do yoga to improve your health and flexibility, but did you know that yoga is good for kids, too?
Doing yoga with your kids is a great way to encourage bonding and physical activity with your kids. It's also a perfect choice to help them explore their physical boundaries and improve their flexibility and coordination.
Many yoga studios and fitness centers offer yoga classes meant for kids, and you can also do yoga with your kids at home by using instructional videos. However, unless you're a yoga instructor, you should refrain from teaching your kids yoga yourself. While most gentle yoga is easy and enjoyable for kids, you should use instructional videos to help you find appropriate poses for your children.
Yoga can be a great way to teach your kids patience and mindfulness, too. Holding poses for an extended period of time will help teach them concentration as well.
7. Fitness Games for Kids
When the weather is nice, head outdoors to play fun fitness games with your kids.
Fitness games for kids are great for getting them moving, promoting healthy competition, and improving their overall fitness. 
You can also choose from a variety of fitness games depending on your kids' ages and abilities. Simple games like tag or catching and throwing are great for kids of all ages, but you may want to get creative to keep kids engaged. Creating a cone obstacle course is a great way to improve kids' coordination and agility, and a fun relay race is a great way to promote teamwork.
You can also get their classmates and neighbors involved for an even better time!
8. Conduct a Scavenger Hunt
If you need an all-day adventure, creating a scavenger hunt for your kids can be a great way to engage their problem solving and teamwork skills.
Scavenger hunts do require some planning. You'll need to hide certain items somewhere, get a grand prize, and create riddles to lead your kids to the final location.
However, the great thing about scavenger hunts is that you can do them on any scale. If it's just you and your kids, you can do it around your house and your backyard. You can also do it on a larger scale around your neighborhood or city with large groups like family or scout troops.
By working on teams to solve a puzzle, your kid will learn how to collaborate with others on challenging problems - an important skill that will serve them well later in life.
9. Visit Local Parks
Visiting local parks is a fun way to get kids active and interested in nature. 
If you only have an afternoon, head to local parks for biking, rollerblading, and playing on playgrounds. Many city parks offer great paved areas for short walks as well as kid-friendly facilities.
When you have a full day, take a trip outside of town to nearby state and national parks. These can be great opportunities for your kids to learn about nature and explore the beauty of the natural world. However, be sure to pick parks that are kid-appropriate, and come with plenty of water and snacks for them!
When your kids are old enough, you can also plan overnight camping activities for a night of family fun.
10. Visit Fun Restaurants for Kids
Just because you have to stay indoors doesn't mean that you need to stay at home. Visiting a fun restaurant for kids can be a great way to get out of the house while creating a memorable experience for your children. 
Plus, there are plenty of great restaurants for kids that you can choose from. Chains like the Rainforest Cafe and Red Robin are practically built for kids' enjoyment, and you'll surely find plenty of local restaurants in your area that are perfect for your kids. It's alway an option for you to tell children about the benefits of healthy food while visiting restaurants and explain more about how to improve health with rational eating habits. 
Plus, you'll get a night off from cooking - and there's no dishes, either!
11. Go to a Kids' Play Center
Play centers and play restaurants like Chuck E Cheese and Dave and Busters are fun places for your kids to eat and play around. 
Between arcade games, ball pits, and activities like bowling or mini golf, these kids of kids' play centers are the perfect way to spend a rainy day or even host kids' birthday parties. 
Plus, these kinds of games actually build all kinds of skills. Lazer tag can build teamwork skills while enhancing their physical fitness, and arcade games build hand-eye coordination.
From ball pit places to arcades, game centers for kids are a great way to keep them active and entertained. 
12. Visit a Museum
If the weather outside isn't on your side, visiting a museum is a great way to spend a day off from school.
Luckily, there are plenty of options for museums to entertain kids of all ages. If your kids are fairly young, then you should choose museums for toddlers and other young children. Children's museums and other museums with children's areas are ideal for these younger children who might not have the patience to visit a traditional museum.
However, as your kids get older, you can start to visit museums that are more advanced. Natural history and science museums are always fascinating for kids, and kids who are interested in art can visit your local art museum or gallery.
Regardless of your child's age, visiting a museum is a great - and educational - way to keep them entertained.
13. Cook with Your Kids
Although it's easy to ask your kids to step aside in the kitchen, cooking with your kids is a great bonding experience and a great way to teach them an important life skill. 
For young ones, simple recipes like pancakes or cookies are often best. Though they can get messy, those kinds of recipes are easy to make, and your toddlers and young children won't need to get close to an oven or burner to have a great time learning.
As your kids get older, you can teach them more complex recipes and slowly introduce kitchen tools to them as appropriate. 
Asking your kids to join you in the kitchen is a great way to spend time with them even as teens, and it teaches them cooking basics that will help them through the rest of their lives.
14. Get an Indoor Playground
If outdoor playgrounds are out of the question due to bad weather or tight schedule, then an indoor jungle gym from EZPlay can be a great substitute.
Indoor playgrounds are fun and customizable. They can have everything from swing and slides to climbing areas, and you can easily assemble and disassemble the entire play structure within few minutes. What is even more important is that an indoor play area makes children really happy. For instance, EZPlay indoor play structures for home provide a whole universe of adventures for kids who can imagine themselves as discoverers or travelers. 
If you have older kids who love to climb around, then you can get a larger wooden playset with plenty of ropes and monkey bars. The great benefit of EZPlay indoor playgrounds is that they are foldable. It means you can always stow your jungle gym away in a closet when you're not using it.
Having an indoor play area is a great way to make sure that your kids can have fun no matter what the weather outside looks like. Moreover, EZPlay jungle gyms are specially created to foster kids imagination and motivate them to engage in physical activities. A big bonus - children can play together and develop their communication skills. 
15. Invent a Simple Engaging Activity
If you don't have tons of craft supplies on hand but need a simple activity for your kids, then you and your kids can collaborate to invent simple games that you can play with basic items like balls, balloons, and even pillows.
One idea for an easy game is "Balloon Off the Floor." All you need is a balloon and space to play. The goal of the game is to keep the balloon off of the floor and pass it around.
You can also play fun imaginary games like "The Floor is Lava" or "Hide and Seek."
While this game is perfect for young children and toddlers, you may want to add in some extra rules when playing with older kids to make the game more fun and engaging for them.
Inventing simple games with your children helps to instill creative thinking skills and healthy competition among your kids. 
16. Read Them a Story
Learning to read is important for kids - especially as they prepare to enter school, so reading with your kids is a great way to give them a jump start as they get ready to go to Pre-K or Kindergarten.
If you have toddlers or young kids, reading aloud to them as they follow along is usually best. As they get older, you can have independent reading time where they read books that they are interested in, and you can even have a "family book club" where you discuss what you're reading with your kids.
Reading is incredibly important to their cognitive development, and it's an essential skill for kids entering school. You should take the time to introduce your kids to the joys of reading as young as possible.
17. Enroll Them in an Art Class
If your kids are interested in art, then enrolling them in an art class is the perfect way for them to flex their creative muscles.
Doing art makes it possible for children to enhance their creative thinking and fine motor skills, and if you're not exactly an art expert, then an art class is a great way to teach them about art while revealing their creative abilities.
Plus, as an added bonus, it can be a nice break from the kids during summer or winter break. 
If you want to enroll your kids in art class, check out your local museums and community centers - they usually have a variety of art classes available for kids of all ages. 
18. Play Dress-Up
Do you have old clothes in your closet collecting dust? Are you tired of buying Halloween costumes only to never use them again?
A dress-up trunk is the answer to your problems!
You can put your ugliest clothes, your old Halloween costumes, and the most ridiculous jewelry into a box or trunk, and your kids can dig through it, find items they like, and take fun pictures or play pretend.
Kids love using their imaginations to dress up and create characters based on their costumes. Your kid can don dresses to play princess, or they can put on a business suit and pretend to be working.
Kids love to play pretend, and playing dress-up is the perfect way to encourage that kind of imaginative play.
19. Make a Pillow Fort
Although winter means plenty of holiday fun, it also means bad weather and snow days.
While playing in the snow is fun, your kids will eventually run inside shivering and demanding hot cocoa, and you'll need to find fun activities for them to do while keeping warm. 
While it might be tempting to just stick them on the couch with a blanket, they'll eventually need something more to keep them entertained.
A pillow fort is the perfect way for kids to have fun while staying warm on a winter day. Constructing a fort from blankets and pillows is a blast for kids as they imagine they're creating their own personal castle, and the construction process helps stimulate their critical thinking and problem-solving skills as they make a fort from the supplies they have. 
Then, when they've created their pillow fort, you can have a fun and cozy movie night! 
20. Make Cool Paper Crafts
Paper crafts are a cheap, easy, and fun way to encourage your kids to get creative!
Teaching your kids basic origami figures is a great way to exercise your child's fine motor skills, and paper figurines and finger puppets can provide hours of entertainment - even after they're all finished!
Paper crafts are also perfect for holidays and special occasions. Paper snowflakes and Christmas trees can make cute holiday decorations for your house, and paper flowers can be a cute and thoughtful way for your kids to express appreciation and gratitude toward family and friends.
However, if you have older kids, be sure to choose paper craft projects that will keep them interested and engaged. Projects like complex paper flowers or advanced origami are better suited for older children with more advanced cognitive and motor skills.
21. Have Fun with Science
One of the best ways to get kids interested in science is by showing them just how fun it can be.
All parents know the struggle of keeping kids sharp during school breaks. Tearing kids away from days of summer fun at the pool can be near-impossible - unless you propose an equally fun activity.
Basic experiments like learning why mixing Diet Coke and Mentos are easy and fun - kids will love the reaction it creates! There are also fun experiments that teach kids about everything from the water cycle to reptiles.
By conducting easy and fascinating scientific experiments at home, you can get your kids engaged in science and better prepare them for school.
22. Create Models and Sculptures
Making sculptures and models with your kids is a good method to exercise their creative thinking abilities while enhancing their fine motor skills. 
Toddlers and young children will have fun making objects out of simple supplies like Play-Doh and modeling clay. You can even add in fun objects like felt cut-outs, googly eyes, and pipe cleaners to help your kids bring their sculptures to life!
With older kids, you can get into more advanced sculpture and modeling. Legos are a great way to encourage your kids to create, and at this age, they'll be able to create more advanced sculptures, too. 
Plus, if your kid has a knack for sculpting, you can easily find a local art class to help them explore their creative side.
23. Make Friendship Bracelets
Friendship bracelets are a fun craft for kids, and they're a great way for them to make gifts for friends and family.
There are also many ways to make friendship bracelets. Smaller children can start working on their fine motor skills by creating cute beaded costume bracelets, and older kids can refine those skills with more complex knotted ones.
Regardless of your kids' preferred method of bracelet-making, it's a fun activity that promotes creative thinking and fine motor skills, and just about anyone can do it! And how happy your children will be in 5 or 10 years when they will find these bracelets and remember the past...
Plus, as kids get older, they can even take jewelry-making classes through local art teachers and even camps. Making jewelry is a great way for kids to have fun, make creative gifts, and become interested in a fun and productive hobby.
24. Create A Photo Album
Need a fun activity that doubles as an adorable momento?
Create a photo album with your kids!
A photo album that you craft with your kids is a great way for them to express their creativity while creating timeless memories.
In the process, you can teach your kids how to make collages to decorate the album and write short captions to remind them of where the photo was taken. 
With older kids, you can also take this opportunity to show them baby pictures and tell them about what they were like as a baby. You can also show them old pictures from weddings, birthdays, and other family events from before they were born. This will help to improve the bond with your kids and retranslate family values.
Kids will surely get a laugh out of seeing their mommy with crazy hair or seeing their aunts and uncles when they were around their age. It's a great opportunity to teach your kids about your family history and their relatives.
And, at the end of the project, you'll have a cute photo album with a personal touch from your kids!
These are just some of the ideas of how you can motivate your kids to be physically active and have fun. One of the goals we tried to achieve in our list is to provide those activities that get children away from the TV, computer or mobile games to help them discover the world. What is more, these activities help parents and child to build mutual trust and friendship. If you want to know more on how to bond with kids, read our article about family relations.