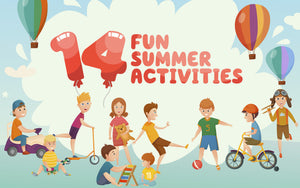 14 Fun Summer Activities for Toddlers
Toddlers are one of the toughest age groups to keep entertained. Their attention span is incredibly short, and they usually need a lot of supervision. Finding a steady stream of activities to keep your toddler engaged, learning, and out of trouble is no easy task. Luckily, we are here with a list of 14 fun summer activities you can do at home with your toddler. 
1.

    

Scavenger Hunts 
Place some of your toddlers toys or other objects around your house or backyard and ask your toddler to find them. They'll be learning critical thinking skills and also be having a great time. The sky is the limit with this activity - you can make the scavenger hunt themed, using colors or animals or shapes, or you can let nature be your guide and look for a certain number of sticks or rocks or leaves. 
2.

    
Water Table
A water table is an activity table with a top you can fill with water. This simple table can provide hours of entertainment for toddlers. Add some boats or rubber ducks. Give your toddler some buckets, cups, or colanders and show them how to scoop and pour water. Things can get damp - so this is inactivity best suited to outside. You don't even necessarily need a designated water table for this. An empty plastic tub works just as well. As always with children and water, make sure your toddler is being carefully supervised whenever they are using this toy. 
3.

   
Gardening
Most toddlers are fascinated with housework and love to help. If you have plans for gardening this summer, make sure to include your child. They can help plant seeds, dig holes, water plants, and pick flowers or harvest vegetables.
Gardening is also a great learning opportunity. Your toddler will learnt hat plants need air, water, and sunlight to grow. If you have a vegetable garden, your child may be more likely to eat his or her vegetables if they helped to grow them themselves! 
4.

    
Indoor Jungle Gym
Rainy days won't get you and your toddler down when you have an indoor jungle gym! Bring the fun of an outdoor playground indoors. An indoor play set can provide hours of fun and entertainment for your little one as well as assist with their physical development.
The only limit to the fun they can have on a jungle gym is their own imagination. Will they be sailors on a ship? Riding down a mountain in a train? Or maybe they'll be mountain climbers! Whatever they choose, they will be sure to have a lot of fun. 
5.

    
Color Matching Games
The toddler years are when children begin learning the basics, like colors and shapes and numbers. Making learning into a fun game will help keep your child engaged and get them ready for their school years.
Color matching is an easy beginner activity you can try at home. Help your child identify different colors and sort objects into piles based on color. Another easy activity is to give your child a bin with an assortment of objects that are two different colors and have them separate the objects into piles by color.
 6.

   
Bubbles
Bubbles are a lot of fun for kids and adults. They're inexpensive to buy ready-made, but you can also make your own at home! All you need is water and some dish soap. Homemade bubbles are great for making giant bubbles. All you need is a container big enough (an inflatable pool would work great here) and a hula hoop. Once you've mixed your bubble mixture, dip in the hula hoop and prepare to amaze your toddler with a giant bubble!
There are lots of opportunities for play and learning here. You can see which objects make the best bubbles, challenge each other to make the biggest bubble, or talk about what colors you see when you look at the bubbles.
7.

    
Stickers
Stickers are always a big hit with toddlers. This is another great rainy day activity. All you need is a pad of stickers and some blank paper and you can let your child go to town. You could also print out pictures that can act as a sticker background, such as an ocean scene for fish stickers or a jungle scene for animals.
Reusable cling-type stickers are also great, as they can be placed and moved an infinite number of times, meaning hours and hours of playtime. Window cling stickers are also great for summer time. Your toddler can use them on a door as well as a window.
8.

    
Play Dough
Sensory activities are great for toddlers. You can either use store bought play dough or make your own. Making your own is surprisingly easy and you likely already have all the ingredients at home! You'll just need water, flour, salt, cream of tartar and vegetable oil. You can also add food coloring and make as many different colors of play dough as you like!
Play dough on its own is a lot of fun, but you can also add in accessories. Little toys, rolling pins, cookie cutters, or plastic straws are great additions to play dough fun time. Once again, imagination is the only limit when it comes to this stuff. You can bake cupcakes or build snowmen or sandcastles - all out of play dough!
9.

   
Finger Painting
This activity is great for any time of year, but especially in the summer when you can do it outside and make cleanup a little easier. Bring the easel outside (or just use an outdoor table that can be hosed off, or put a plastic table cloth over it) and set up a station with lots of paint and paper. Then let your kids go wild! Show them how to mix colors to create different ones. Find objects that can be used as stamps. Make handprints or footprints. Once everyone is done painting, you'll be left with some original artwork. If you really want to make cleanup easy, have your kids wear swimsuits while they paint, and then hose them off when they're done! 
10.

 
Sidewalk Chalk
The world is your canvas when you have a bucket of sidewalk chalk. At their most basic, you can use sidewalk chalk to draw fun and pretty pictures on your driveway or sidewalk. But there's all kinds of other things you can do with sidewalk chalk, too. You can draw a hopscotch board, a maze, or outline roads or a parking lot for toy cars. Sidewalk chalk is great for learning numbers, letters, and colors too. Have your child lie down in the driveway and trace their outline, and then help them identify their different body parts and color in their chalk outline.

11.

 
Collecting and Painting Rocks
Did you ever have a pet rock when you were a kid? It's something so simple, but so fun. Go on an adventure to find the perfect rock, and then bring it home and go to town with craft paints. You can paint pictures on your rock, or a little face, or go crazy with color. After the paint has dried you can attach google eyes or pipe cleaner antennae! 
12.

 
Shaving Cream Sensory Play
Grab a can of shaving cream and get ready for some fun! First off, it's important to note that shaving cream is not safe to eat, so this is a toddler activity that requires supervision.
But sensory play with shaving cream is a great way to introduce a new texture and encourage creativity in toddlers. Put the shaving cream (the form kind, gel will work, too, but not quite as well) in a few small bowls and give your toddler some plastic utensils and let them have at it. Building blocks are also fun here, as the shaving cream makes a fun "glue" to hold the blocks together.
13.
Car Wash
Get outside, get the hose, and get ready to make your own at-home car wash! All you need is a bucket, some soap, and a sponge. Put your toddler in their swimsuit and line up all their outdoor toys - cars and tricycles and scooters are great for this. You can also put your kids to work helping to wash your actual car or patio furniture, too! They'll be having so much fun they won't realize they're actually doing chores.
14.
Cardboard Crafts
Raid your recycling bin and start collecting cardboard. With a little imagination a cardboard box can become a castle, a rocket ship, or a cool club house. They also make great canvases for paint or stickers.
Punch some holes in a small piece of cardboard and help your toddler thread a shoelace through them. Cut different shapes out of cardboard and create a shape matching game. Or you can make your own puzzles out of cardboard pieces. Don't just stop at boxes though, empty paper towel and toilet paper tubes can be made into binoculars or tunnels for toy cars.
Hopefully with these ideas you're well on your way to having a fun-filled summer with your toddler! Check out our list of 24 Fun Activities for Kids to get more ideas on how to make your little one happier.