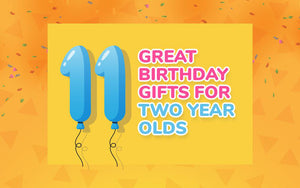 11 Great Birthday Gifts for Two Year Olds
Ah, the complicated twos.
As parents, you've probably heard that two is, by far, the hardest age to deal with. Your child is now old enough to walk, climb, and scamper around, but they haven't quite gotten to the age when they realize that floors can be slippery, vases can break, and cooking pans are hot.
However, you can make the complicated twos a bit more bearable by giving your child plenty to do. If your child is busy making arts and crafts, running around the playground, or playing with puzzles, then they won't have the energy left to wreak havoc on your household.
The perfect birthday gifts for two years olds accomplish just that by keeping your toddler physically active and mentally engaged so that they'll easily lie down for naptime and bedtime.
Here are 11 great ideas for the perfect birthday gifts for two year olds:
A Play Kitchen
If your curious toddler constantly wants to join you in the kitchen, then a play kitchen might be the perfect gift for them.
A new play kitchen will encourage your two year old to be creative and imaginative. As kids become more curious about the world around them, they'll enjoy acting out a variety of roles. With a toy kitchen, your two year old can pretend that they're a chef at a fancy restaurant or a parent trying to make dinner for unruly children. The possibilities for imaginative play are endless!
Play kitchens allow toddlers to explore the culinary world without the dangers of hot stoves and sharp knives. As your two year old makes imaginary dishes with toy utensils, ovens, pots, and pans, they'll get to indulge their curiosity about cooking without disturbing you in the kitchen.
Dress-Up Costumes
Like play kitchens, dress-up costumes are an excellent way to encourage your two year old's creativity and imagination in a fun and safe environment.
With a variety of different clothes and accessories, your two year old can pretend to be just about anything. With a crown and fancy dresses or suits, they can pretend to be royalty ruling over their imaginary kingdom, or with a white jacket and play stethoscope, they can imagine that they're a doctor saving their patients from all kinds of imaginary maladies. You may be surprised at the fun and fascinating characters and scenarios that your two year old's imagination can invent.
Dress-up costumes are also an easy and inexpensive gift to give. You can raid your own closet and find plenty of hand-me-downs that your children will love, or you can head to your local thrift store or costume shop to find unique and delightful items.
A New Dollhouse
Dollhouses are another excellent way to encourage imaginative play with your child.
As your child turns two, they'll begin to explore and mimic their surroundings, and dolls are the perfect way to indulge those imaginative tendencies. With dolls and a dollhouse, your child will be able to mimic family interactions while weaving stories all their own, encouraging them to continue to use their imaginations to explore the world around them.
Dollhouses are also something that your child will use and cherish for years to come. Your two year old won't outgrow their dolls and dollhouse until the end of elementary school. Even when they're older, they may keep their dollhouse as a decorative collectable, and they may want to pass down their beloved dollhouse to their own children.
A new dollhouse is the perfect way to encourage imaginative play while making lifelong memories for your child.
Picture Books
By the age of two, your child should be just starting on their journey to literacy.
They may be able to speak a few full sentences and name a few objects by this age, so you should foster that early language development by giving them their very own picture books.
Picture books are a great way to get young kids interested in reading. They'll be captivated by the colorful illustrations, and when you read to them, they'll fall in love with story time and beg for more.
Picture books will also motivate your kids to read. As they gaze at the pictures, they'll wonder what the story says, and they'll want to be able to read it themselves without help from mom or dad.
For a fun and educational gift for your child, look no further than picture books.
Puzzles
As your child turns two, their brain development kicks into high gear, and puzzles are the perfect way to challenge your child while stimulating their cognitive development.
Puzzles help children learn how different parts can fit together to make a whole as they place the different pieces in their proper places. Additionally, puzzles will help your two year old discover how to learn through trial and error, and when they successfully complete their new puzzle, they'll learn to take pride in finishing a new and challenging project.
When you buy a new puzzle for your two year old, however, keep in mind that their new puzzle should be age-appropriate. Their first puzzles should only have a few easy pieces, such as farm animals or different types of vehicles. Once they conquer these basic puzzles, you can graduate them to more complicated ones to further enhance their brain development.
Puzzles will entertain your two year old for hours while helping them develop important cognitive skills.
An Indoor Playground
At the age of two, your child's physical development will also kick into high gear. In what seems like the blink of an eye, your kid will go from crawling and fumbling around to running, jumping, and climbing all around the house.
While you can try to wear them out by going for walks and taking them to the local playground, that doesn't always cut it. Two year olds have a seemingly endless amount of energy, and if the outdoors isn't an option, then you might be out of luck - unless you have an indoor playground.
Indoor jungle gyms are a safe way for your two year old to get their exercise in the safety of your own home. Even if it's dark and cold outside, your kids will be able to climb around and play pretend on their own personal playground. Additionally, jungle gyms like EZPlay's Panda Playground are designed specifically for toddlers, so your kid can enjoy slides, swings, and climbing ropes that are perfectly safe for their size.
An indoor playground will give your kids a safe space to play without the level of supervision required in the outdoors. In the safety of their home, they'll be able to get active, and you'll be able to relax.
A Mini Basketball Set
Two is also the age when many kids first discover sports. They see your family watching basketball or football on TV or the neighbor kids playing a game of pickup, and being naturally curious, they want to join in.
However, regular basketball hoops aren't exactly meant for two year olds. In fact, a regular basketball is roughly the size of a small toddler. That's why a mini basketball hoop is just perfect for your two year old.
A mini basketball hoop is the perfect way to introduce your kid to the world of sports in an age - and size - appropriate way. Your kid will enjoy learning how to shoot hoops with their parents and siblings, and they'll feel accomplished when they finally make a basket.
As an added bonus, many mini basketball hoops can be used indoors. If you have open space in your home, you can set up your mini hoop inside so that your kid can make a slam dunk even when it's raining out.
Building Blocks
Two year olds love to create, so building blocks are another great gift for your toddler.
Building blocks help children improve their hand-eye coordination and critical thinking skills. Your child will learn how to place and maneuver the blocks to make their desired creation, and they'll learn to use their blocks wisely to execute their design.
They're also a great way to foster creativity and imagination. With building blocks, your child will build cities, houses, and palaces, creating a little world of their own. They're also great to use with dolls or toy cars, which can populate their small world.
Building blocks will help your child flex their creativity while teaching them important mental and motor skills.
Music Sets
As your child turns two, they'll begin to explore their love of music.
Chances are, your child already has a favorite song or two. They may enjoy singing along to "The Itsy Bitsy Spider" or "Old MacDonald," or they might love to dance to the music in their favorite TV show.
To foster your two year old's love of music, you can get different music kits for them to play and enjoy. Toy drums, xylophones, and keyboards will allow your kid to learn the joys of making music, and you can even play along with them for added fun!
Even if your kid may not be the next Mozart, encouraging a love of music at an early age will benefit your two year old for life.
Arts and Crafts Supplies
Making arts and crafts is one of the best activities to do with your two year old.
Creating together is an excellent way for you to bond with your two year old. As you finger paint, make foam creations, or write with glitter glue, you'll teach your child to use their art supplies to bring their ideas to life, and you'll help them develop their fine motor skills along the way.
Arts and crafts also do wonders to stimulate your child's creativity. As they doodle, paint, and cut and paste, they'll bring their imaginary worlds to life through art, which helps to foster a lifetime of creative thinking.
Plus, you have near-unlimited options when choosing arts and craft supplies to buy. You can get something as simple as crayons and paper, or you can get age-appropriate craft kits to make dolls or baskets. No matter what you choose, however, your kid will have a blast using their new arts and crafts supplies.
Stuffed Animals
Do you remember your favorite stuffed animal from when you were young?
Chances are, you've had it since the age of two.
Kids love stuffed animals. They enjoy petting their soft "fur" and cuddling with them at night, and during the day, they'll bring their new toy to life, giving it a personality of its own and making it interact with other dolls and stuffed animals in their collection.
Stuffed animals also make important mementos and keepsakes from childhood. Toys and clothes may be handed down or donated, but kids tend to hang on to their favorite stuffed animal. When they grow up, you and your child will cherish their favorite stuffed animal forever.
We hope our article was helpful in making a choice of a perfect gift for 2 year old kids. You can use some of the above-mentioned ideas even when your child becomes older. For instance, the above mentioned jungle gyms will be perfect for kids aged 1-10. You can also check other reasons to purchase an indoor playground for your toddler in case if you still hesitate to make a final decision.