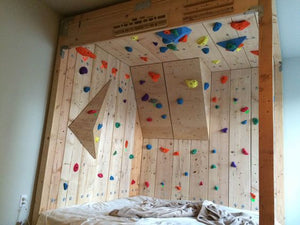 indoor climbing toys
6 Unusual Homemade Indoor Climbing Toys
While EZPlay provides a wide range of activities on an indoor jungle gym that can transform your child's room into a real playground, you can always build an indoor climbing structure and modify it according to your liking. You could build everything from scratch, all by yourself, or with professional help. To get the idea how awesome some of the DIY indoor toys can get, check out these 7 unusual indoor climbing toys used by kids.
1. Climbing Wall Over Bed
Here is one great idea how to provide that exactly – by transforming the space above your child's bed into a climbing wall. Make sure your walls are sturdy.
And, even if your child does slip, he or she will have a soft mattress waiting underneath. If this seems like something too daring, you can always try to transform the side of your child's bed into a climbing structure. This will work the best if your children have a bunk bed.
2. Challenging Climbing Course
This climbing course looks absolutely amazing. To make sure the children stay safe, these parents put a mattress underneath it...or built the course over a mattress.
One amazing thing about such indoor climbing structures is that they can be used by children even when they grow up. Looking at it, we'd venture to guess that a few parents might want to give it a go. 
3. A Climbing Net
If climbing walls are not your thing, how about a climbing net? For starters, you can attach the climbing net to a wall, so that it starts at the floor and goes up the wall.
Once your toddler gets more experienced, you can even move the net up to the ceiling. One great thing about a climbing net is that once your child is inside of it, it is highly unlikely that he or she will fall out. This particular one seems like it's leading all the way down to the lower floor.
4. Creative Climbing Wall
Putting climbing holds all over your wall might seem a bit intimidating, but in reality - it's epic! If you are crafty, then you can even try making indoor climbing toys for children all by yourself. It seems that all you need to do to make something similar to the climbing toy in the picture is to cut some wood into shaped pieces and make sure to have appropriate hardware so that you can attach the pieces to the wall properly.
5. DIY Wood Climbing Wall
Here is one of the most simple, yet very unusual indoor climbing walls. You usually don't see a climbing wall made out of wood. And, the greatest thing is that it will provide decades of fun for a child with boundless energy.
6. Portable Climbing Wall
Similar to the one featured earlier, a climbing wall like such can be built using detachable elements (as long as they can hold all the weight in the world) and moved around your home. 
Regardless of whether you buy yours from a brand such as EZPlay or build a climbing wall all by yourself, it will provide hours of fun for your kids and also positively impact the development of his or her motor skills.
In addition, once your child gets used to overcoming obstacles from a very young age, there is no doubt that he or she will grow up to become a confident and independent individual.