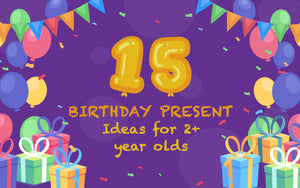 The Best Gift Guide for 2-year-olds
Choosing the best gift for 2-year-olds
The age of 2 is the best time for creativity, growth, and development of the child. At this age, children begin to interact more actively with what they have only explored before. During this time, it is fun to use toys that encourage individual play and stimulate the imagination. If you are looking for the perfect birthday gift for 2-year-olds, here are 15 of the best gifts for 2-year-olds.
Many toys are good at this unique age, but the best 2-year-old gift should develop a child's coordination and creativity, and there are distinct specifics for boys and girls.
For Boys
A gift for a boy of 2 years can encourage movement more because there is a need not necessarily for more intense but for longer activities in boys. Toys are good for improving hand and eye coordination, as well as balancing the whole body.
A runbike and a heavy truck or a kids' trampoline are definitely good choices. However, do not forget about gifts for imagination and creativity that stimulate volitional qualities and decision-making.
For Girls 
The best gift for girls at two should awaken the imagination and evoke positive emotions, as well as sharpen the mind, creativity, and ability to role-play. 
A wonderful kid's piano, a magnetic drawing board, or a classic doctor set have worked well, but in the meantime, gifts for physical activity such as a children's puppet theater or an inflatable pool, should not be neglected.
Gift Ideas for 2-year-olds
Best non-game gifts
Non-game gifts are most beneficial for your baby's development but can be as engaging and engaging for a 2-year-old as some games. 
Toy organizer
You probably thought: this is a gift for parents rather than children. But many years later, the child will be grateful for the things that brought up in them a sense of order and organization. 
Fun Pajamas
Pajamas are a good present for a child of two years old (and who doesn't like a fresh pair of pajamas?!). Present them with a luxurious, high-quality cotton set with an interesting print. As an idea, you can order similar pajamas for your child's pets or favorite doll.
Kids Pipeline Bath Toys
This is a great opportunity to make bathing literally pure fun. Children like to watch how water flows through different configurations of transparent pipes and turns the gears, and how then at the end of the path soap foam appears, with which it is so interesting to have fun.
Exciting toys for children of 2 years 
There are toys it's impossible to tear yourself away from, even if you are an adult. The same applies even more to children, for whom every toy or game can be an inseparable companion throughout the day. However, some of these toys are massively different from others.
A set for a soap show 
A classic that needs no comment. One has only to clarify that today there are many different sets for soap shows, including different tubes and devices that allow you to blow and produce large and small bubbles with smooth hand movements. You won't ever get bored!
A Toy train set
An excellent gift for a 2-year-old child will delight the kid thanks to the train moving on its own, and that will consume his attention for the whole day. For children of two years old, you do not need a set with many small and realistic parts, an ordinary railway with a rolling train on a safe and child-friendly scale will be enough.
A baby doll
A good doll will become an indispensable ward for a girl who now has the opportunity to repeat after her mother while caring for her toy daughter. The big-bellied rubber doll has already become a classic toy for girls for a reason, bringing into the child's life many interesting daily activities related to bathing, eating, dressing up, sleeping, and playing in the fresh air. 
Educational gifts for children
Educational gifts are most useful for the child in the long term, while simultaneously combining components for play and educational activities. There are a lot of advanced constructors and kits for these purposes, as well as fairly simple but effective solutions.
Children's cubes
Another imperishable classic from our childhood and even from our parents' childhood. The bricks themselves are a great help for the development of spatial thinking and construction skills. And cubes with letters, numbers, or images of animals will help to gently push the child towards the basics of general education in the context of the game.
A tactile book
Another useful learning tool that will add interactivity to the usual reading for a child, because now he can touch the drawn characters right on the pages of his favorite fairy tale, and the texture of tactile elements can correspond to their real samples in nature or in everyday life.
A developmental sorter
Like cubes, sorters help develop spatial thinking and coordination which are essential developmental components for children of two years old. However, unlike cubes, sorters are less creative and more demanding, and will not allow you to place a cube in a round hole, forcing you to look for optimal solutions.
More Expensive 2-Year-Old Gifts
All the best is for children, and if there is an opportunity to purchase something dear for a child, you may consider one of the following ideas for a similar gift.
A playhouse
A separate microcosm for a child, which can be modified in different ways, such as an impromptu workshop or a secret tea club for little witches. Be that as it may, the arrangement can cost a pretty penny. 
An electric car
What boy doesn't dream about an electric car? Finally, buy him this special children's electric car or motorcycle, and many decades later, he will still remember and boast about it in front of his acquaintances.
A Gift for Boosting Creativity and Imagination
There are a variety of toys and toys for children to stimulate the imagination and the expression of creative energy. When it comes to musical instruments, it is best to make their game equivalents as close as possible to the original, so that the child immediately forms a good ear for music. Full-fledged musical instruments without complex configuration settings work well; choose something like bells, rattles, or maracas, but best of all - a xylophone - the child will be delighted. 
For the development of visual skills and imagination, plasticine sets are well suited, among which you can find special ones with a mechanical skeleton on which you can mold plasticine and then turn it on so that it moves. Also, a proven solution is a magnetic drawing board. It is not known for sure why, but the mechanics of magnetic drawing are very enticing and thus encourage children to be creative. 
Gifts to increase activity
At two years old, the child no longer just meekly explores but also actively interacts with the world around him, but sometimes this energy does not have the necessary direction or does not manifest itself, and therefore it is important to use play elements that can stimulate the child's physical activity.
Children's crawling tunnel
There is nothing better than special children's crawling tunnels. This gift will work especially well in group games with other children, such as saloons or hide-and-seek, and the individual components of such tunnels scale perfectly into whole crawling labyrinths with many forks.
Playground
Kids love playgrounds! And, more importantly, playgrounds are not only fun, but also help children to develop their motor skills, balance, muscle strength and imagination in an easy and fun way. So you can give a kid a playground like a Panda Playground and not only make them happy, but also facilitate their development.
Trampoline
Obviously, for the child, it will be very fun and useful to spend time on a gymnastic ball with handles. If you get the hang of it, it's great for jumping. 
But the most ideal solution for developing health, coordination, and simply for unbridled fun is a kids' trampoline. Children not only enjoy jumping, but it is also good for the vestibular apparatus and helps to develop a healthy appetite.
Balance bike 
The sports disc for rotation so familiar to all of us has not yet lost its relevance and is sold in many online stores. But there are also more modern baby devices for developing balance and coordination, such as a balance bike. Such a bicycle does not have pedals and forces you to balance in free movement, preparing the child for the older bicycle models of the future.
Children slide
These are produced in different sizes and can be fitted even inside the house. Children's slides are great for reinforcing the motivation to stubbornly climb up to then cheerfully and breezily descend from the other side,  towards new heights. Penguin Slide is a nice high-quality example of such a slide.
Ball pit
Ball pits are a favourite part of any playground - kids just love diving into them and may spend hours playing in ball pits. And due to balls being soft and durable, such games are completely safe. With EZPlay Plush Ball Pit you can make any kid happy - they will have their own ball pit to dive in.
A gymnastics jumping cube
Learning how to jump off stuff on your own can be difficult if you don't prepare in advance, equipping these with components that are meaningful and memorable for the child. By purchasing a soft mat or gymnastic cubes, you can teach your child not to be afraid of heights - gradually.
How to give a unique gift to a child for 2 years?
The best gift is one made with your own hands, or even better - in the company of your child. And most likely, there is no specific stage of growing up when it is necessary to accustom children to nature, which is a good idea at any age. 
Put together a feeder for our feathered friends with your child, and you will not only have a productive time together but also lay the first steps towards the manifestation of complex impressions and motivations in the child when he can observe the positive results of his efforts.
Indeed, this is a unique gift that the child makes to himself with your participation. 
What to give a baby who has everything
Give him something that will remind him of you, something personal and valuable. This could be your favorite children's book or even your children's toy, which you never dared to part with. One way or another, give something personal, perhaps even something adult and complex, for them to grow into, such as a musical instrument or boxing gloves.
Summary
Two years is a significant age and period for a child, characterized by impulses for creativity and movement. Therefore it's good to choose a gift that can support these natural activities. Also, do not forget that every child is unique, and take into account his personal taste when choosing toys for learning and creativity. And if you don't find what to give, then do something together - attention is always the best gift, at such a tender age children need it like at no other time.