Pikler Climbing Set: Foldable Triangle + Arch + Slide Board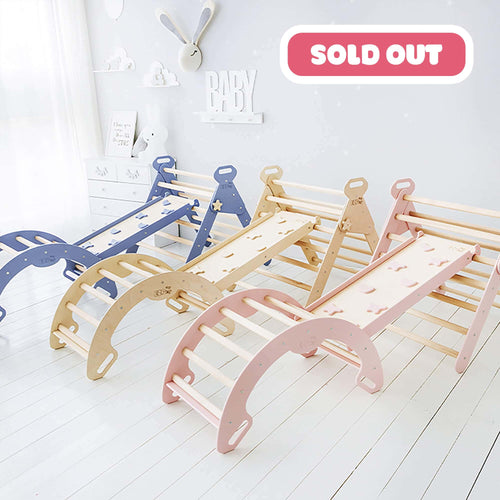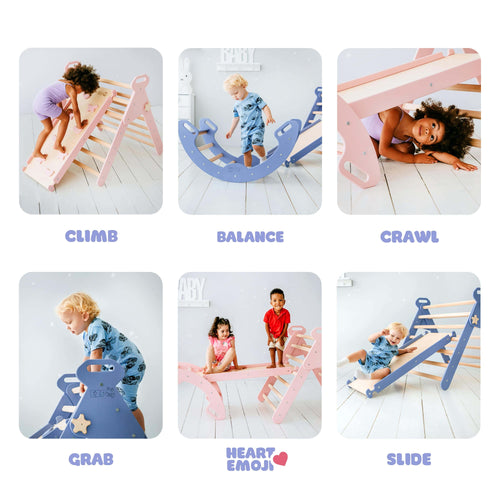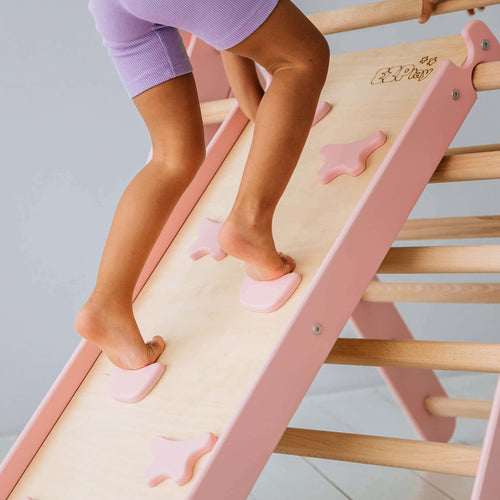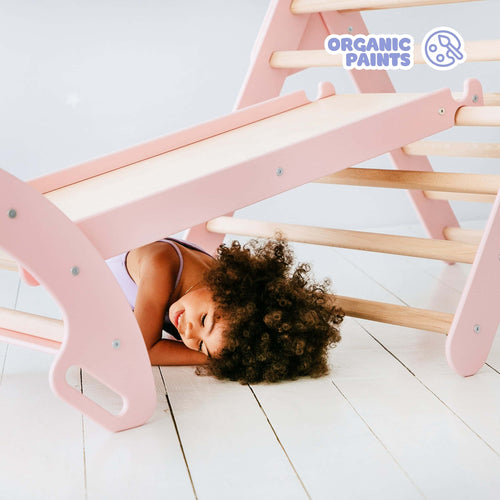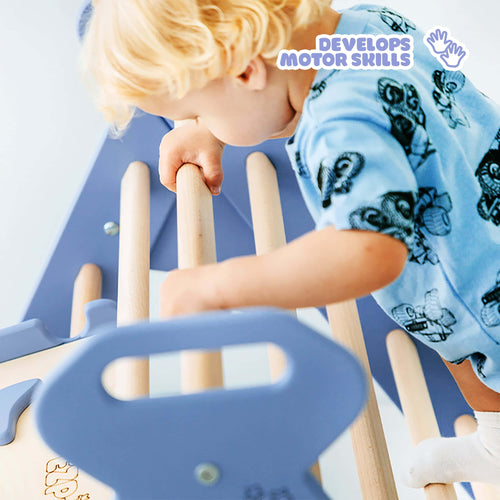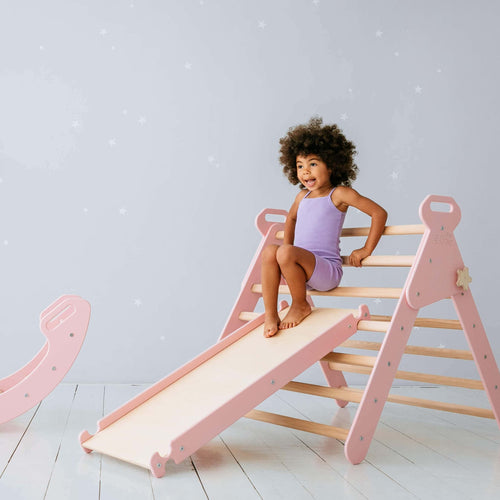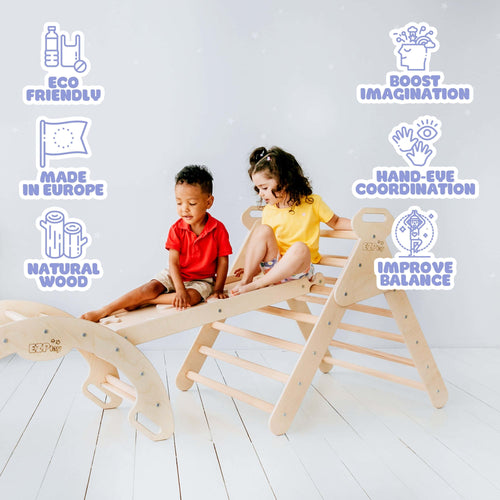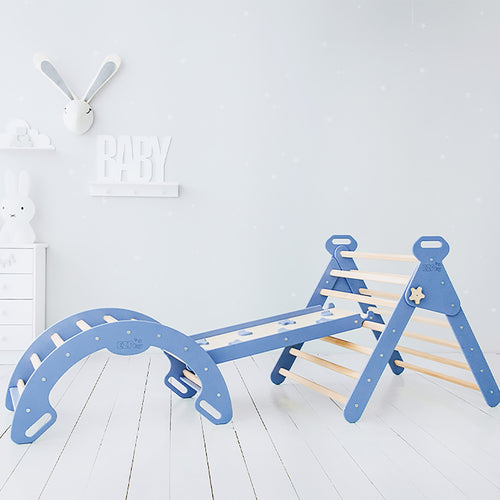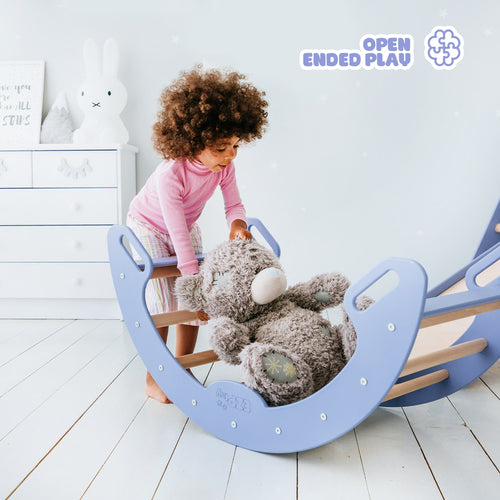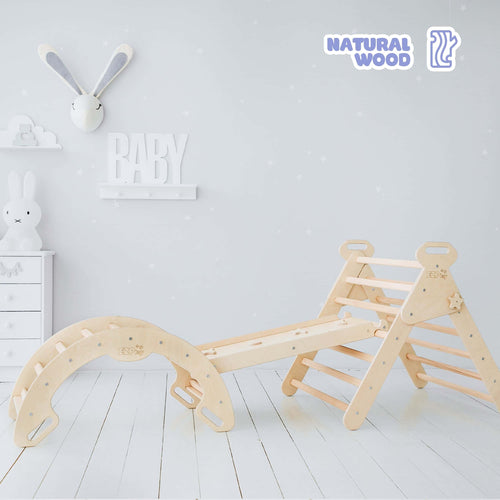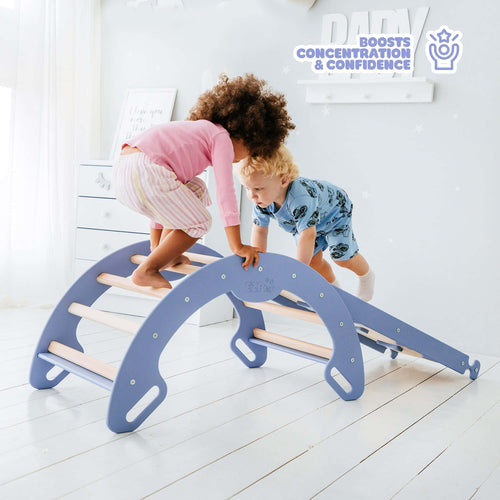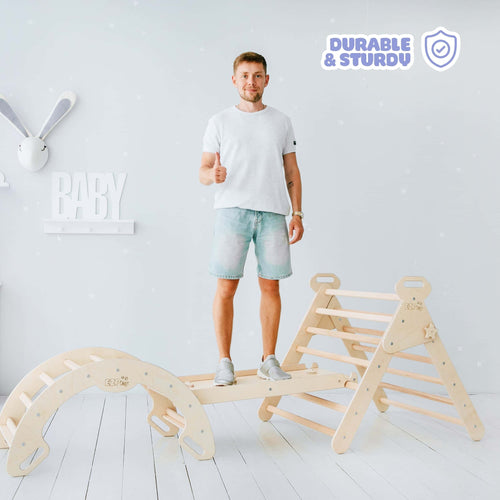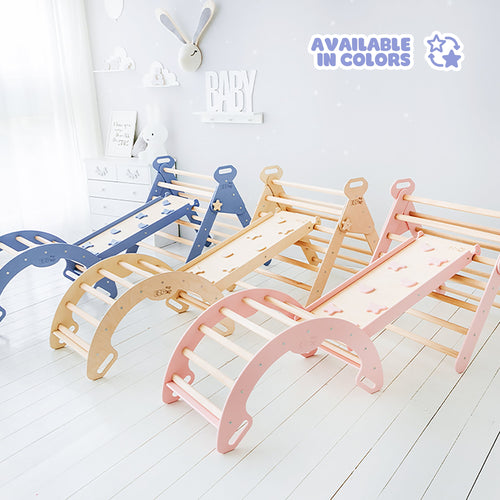 Explore the Product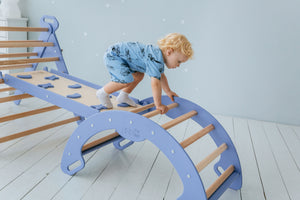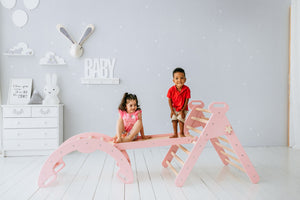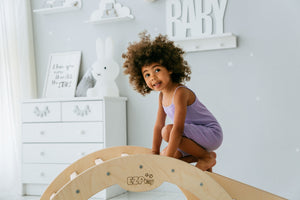 Improves Balance & Motor Skills
On the Pikler climbing gym, your children can learn and develop their balancing skills by climbing ladders and sliding down the slide.
Inspires exploration
By climbing and playing kids become braver and more curious. On turning the arch to another side the child makes up new entertainment, discovers new abilities and develops his body.
Develops Brain Cognitive Function
Physical activity is important for healthy cognitive development. Active Play assists children in developing new competencies that contribute to increased optimism as they understand and master their surroundings.
EZPlay Piklers Set is a perfect playground for toddler's development
* It gives kids a place to climb and teaches how to do it safely * Promotes motor skills and strengthens limbs * By climbing and playing kids become braver and more curious * Allows babies to discover their own abilities step by step
Climbing Arch: 37''W x 18''H x 20''D
Piklers Triangle: 31''W x 33''H x 35''D
Slide: 40'' x 15''D
Top Quality Climbing Gym
The EZPlay Piklers playground is absolutely safe for kids. We use only high-quality, sustainable water-based paints, and environmentally friendly varnish. Our products do not cause allergic reactions and don't emit harmful substances.
At EZPlayToys, We Take Care of You and the Planet.
At EZPlay our commitment to you and the planet is to use the highest quality materials and avoid using plastic. We use sturdy ash wood from Europe and quality fittings to produce long-lasting play structures and treat them with water-based paint and solvents to a high level of craftsmanship. Our handcrafted construction methods and an unwavering attention to detail make sure that every EZPlay indoor playground is built to last.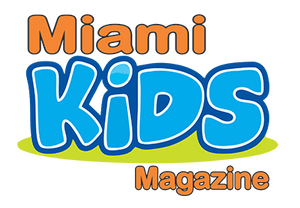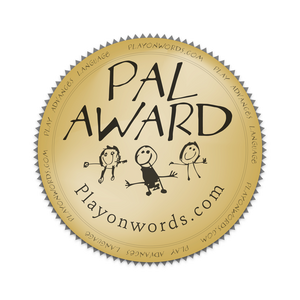 Turnaround
We process and ship orders Monday through Friday 10AM – 5PM (excluding U.S. Holidays). In most circumstances, orders placed within those times will ship same day, but our official processing time is up to 2 days in case of increased order volume or inclement weather/delays in carrier pickups. The amount of time the order will take to get to you will depend on the shipping method you've selected.
Carriers
All orders are shipped via UPS. We offer UPS Ground, UPS 2nd Day Air and UPS Next Day Air services.
Order Tracking
Once your order is shipped you should receive a confirmation email with the tracking number. If after 2 business days of placing the order you still have not received a tracking number, please contact our support team at support@ezplaytoys.com
Shipping Rates
The rate charged for the shipping of your order is based on the weight of your products, and your location. Before the final checkout page the cost of shipping will be shown and you have the option not to complete the order if you for any reason change your mind. Sales tax may be collected for non-labor items in Illinois.
Returns must include ONLY the defective pieces. Do NOT include any fully functional items or pieces into your Warranty & Returns request. Please keep the original packaging and any non-defective items as we will only warranty and replace the defective pieces.
If the product has physical damage, damage from outside weather and/or evidence of tampering with the product, it will NOT be eligible for warranty exchanges or any refunds or returns.
If you are not familiar with how to install or use the products you received, please take some time to go over the included instructions or feel free to contact us with any questions as we are always glad to help.
Returns Shipping – Please contact our support staff at support@ezplaytoys.com to start the Warranty & Exchange process. Our team will work with you through the process. Please note that returns shipping is NOT pre-paid, but will be refunded upon receipt of defective items. Customers are responsible for shipping the RMA items to EZPlay, unless you received a DOA or a wrong item.
Customer Reviews
05/30/2022
Mary Ann E. Shields
Pinker climbing gym
It was beyond exceptional! My 9 month old grandson is already pulling himself up and loving it! So easy to assemble, super well made,high quality! I would highly recommend this company and this play set!
01/08/2022
Kathryn B.

United States
Beautiful product!
I was a bit wary at first because I found this company via Facebook ads and pre-ordered so I wasn't sure when it would actually ship. The product arrived as expected and was easy to assemble (about 1-2 hours) and looks just like the photos. Looking forward to lots of fun play!
01/07/2022
Shaara A.

United States
Nice product, but missing screws for assembly
I have assembled the arch and the slide and my 14 mo old loves playing on this. It is a bit more periwinkle blue than I had expected, so it doesn't quite match the nursery like I had hoped. It seems sturdy/reliable and it has been straight forward to assemble. That said, it only came with 40 screws instead of 50, so I have been unable to complete assembling the Pickler. I'm hoping they will send the missing screws.
01/06/2022
James L.

United States
Reviee
Very good customer service, will absolutely purchase in the future.
10/07/2021
Katie

United States
Totally worth it!
I ordered this for my 2 1/2 year old and it's a huge hit. It's super sturdy and well made. I put it together by my self and it took a little over 2 hours so it wasn't too terrible. Probably could have finished sooner if I didn't have to stop a few times to help my kid. I would highly recommend and will buy future products for sure.