Koala Adventure Kids Wooden Playset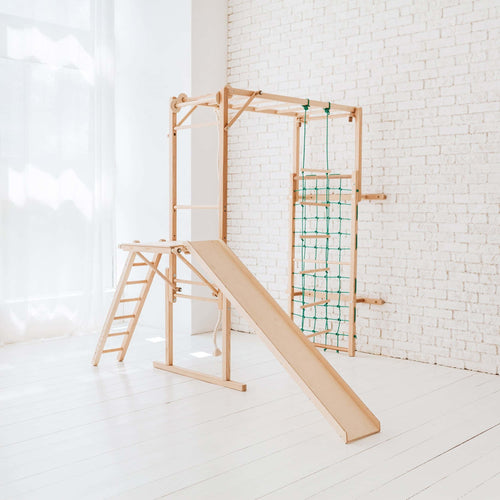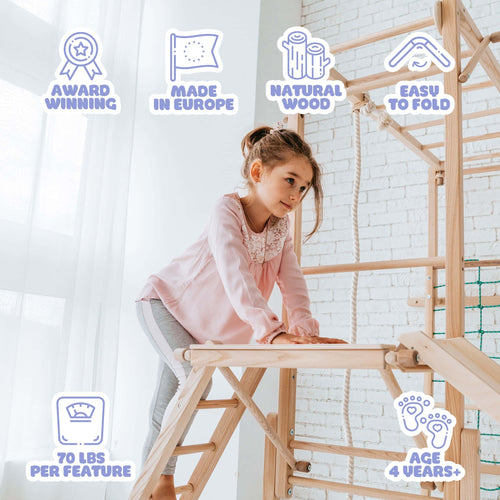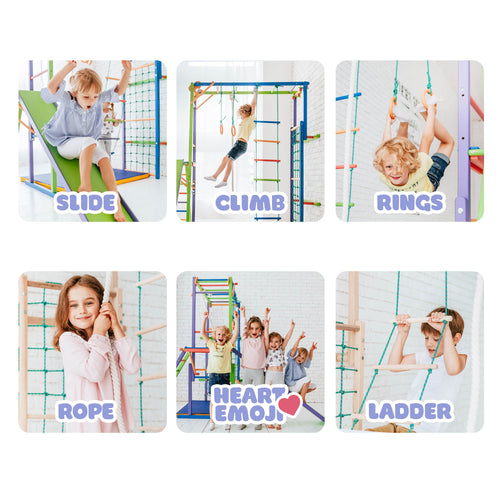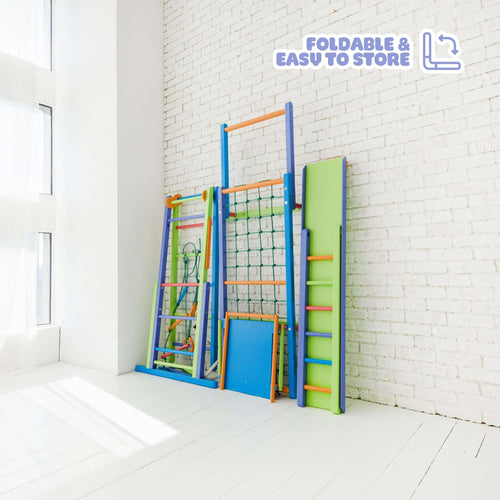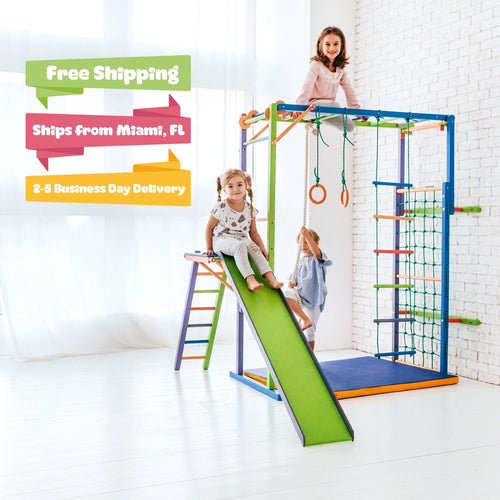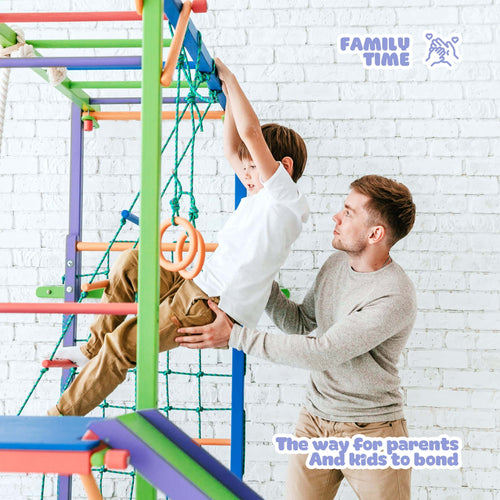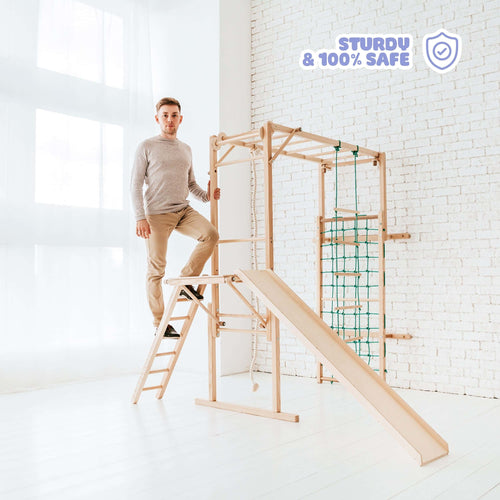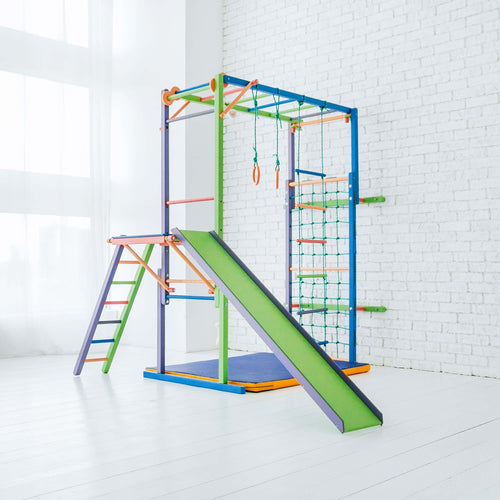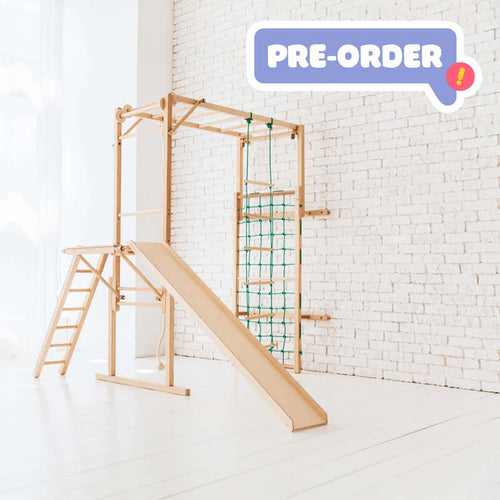 Explore the Product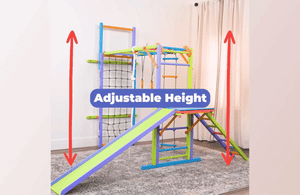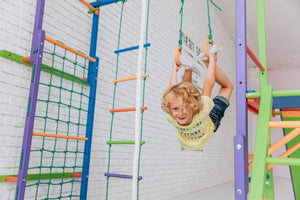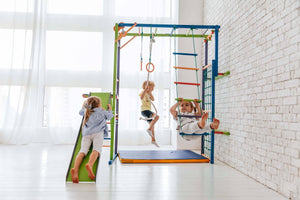 Improve Balance/Motor Skills
Your children will practice and further develop their balance skills on the Koala Adventure playset by climbing ladders, swinging on the monkey bars and sliding down the slide.
Develops Flexibility
Active Play will help your children develop new competencies that contribute to finding new ways to play as they learn and master their new playset.
Strengthens Muscles
Physical exercises such as grabbing, balancing, jumping, and other physical activities help increase strength, dexterity and muscle memory.
Koala Adventure Kids Wooden Playset
How long does shipping take?
Orders are processed in 1 business day. We ship from Miami, FL and delivery takes 2-5 business days depending on your location.
The age range is from 4-year-olds up to 10. Koala Adventure has a Low setting (58 inches) for younger kids and a Tall setting (75 inches) for bigger kids.
Can this playset be used outside?
No, the Koala playset needs to be mounted to a wall.
Koala Adventure is the largest among wooden playsets for sale we currently offer
Once assembled, Koala Adventure is securely mounted to the wall inside your house or apartment and provides stability for your children's climbing and play. You can easily change the height setting of the indoor playground in accordance with your needs.
Recommended age: 4-10
Sturdy, splinter-free ash wood
7 in 1 Play features
2 Adjustable height settings:
High Setting: 63W x 73H x 37D
Low Setting: 63W x 57H x 37D
Foldable construction
Mounts to the wall (4 screws)
Playset weight – 70lbs
Weight limit - 70lbs per activity, 120lbs total
Perfect Birthday Gift!
EZPlay Koala Adventure is an excellent gift for kids! Your little ones will play and exercise in any weather, which will have a great outcome on their muscle development. Give the gift of exercise, imagination and endless fun!
At EZPlayToys, We Take Care of You and the Planet.
At EZPlay our commitment to you and the planet is to use the highest quality materials and avoid using plastic. We use sturdy ash wood from Europe and quality fittings to produce long-lasting play structures and treat them with water-based paint and solvents to a high level of craftsmanship. Our handcrafted construction methods and an unwavering attention to detail make sure that every EZPlay indoor playground is built to last.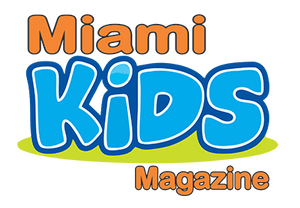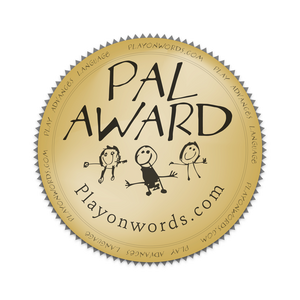 Turnaround
We process and ship orders Monday through Friday 10AM – 5PM (excluding U.S. Holidays). In most circumstances, orders placed within those times will ship same day, but our official processing time is up to 2 days in case of increased order volume or inclement weather/delays in carrier pickups. The amount of time the order will take to get to you will depend on the shipping method you've selected.
Carriers
All orders are shipped via FedEx Ground. For expedited 2nd Day Air and Next Day Air services, please contact our team at support@ezplaytoys.com
Order Tracking
Once your order is shipped you should receive a confirmation email with the tracking number. If after 2 business days of placing the order you still have not received a tracking number, please contact our support team at support@ezplaytoys.com
Shipping Rates
The rate charged for the shipping of your order is based on the weight of your products, and your location. Before the final checkout page the cost of shipping will be shown and you have the option not to complete the order if you for any reason change your mind.
Returns must include ONLY the defective pieces. Do NOT include any fully functional items or pieces into your Warranty & Returns request. Please keep the original packaging and any non-defective items as we will only warranty and replace the defective pieces.
If the product has physical damage, damage from outside weather and/or evidence of tampering with the product, it will NOT be eligible for warranty exchanges or any refunds or returns.
If you are not familiar with how to install or use the products you received, please take some time to go over the included instructions or feel free to contact us with any questions as we are always glad to help.
Returns Shipping – Please contact our support staff at support@ezplaytoys.com to start the Warranty & Exchange process. Our team will work with you through the process. Please note that returns shipping is NOT pre-paid, but will be refunded upon receipt of defective items. Customers are responsible for shipping the RMA items to EZPlay, unless you received a DOA or a wrong item.
Easy Storage & Assembly
Reclaim the space in your home. When you're done with play, simply fold up the jungle gym and put it away. After an easy initial setup, each unit is ready for play within a few minutes.
Eco-Friendly Materials
Our playsets are made from high-quality, sustainable and toxic free materials—we're conscious of the environment.
Indoor Convenience
Rain or snow, frigid cold or sweltering heat, EZPlay Indoor Playground give your kids exciting play options inside the comfort of your own home.
EZPlay keeps kids Healthy & Happy
At EZPlay our commitment is to promote Active Play to help keep kids healthy, happy and growing. Say NO to tablets, TV's and screens! Physical play is very important for healthy brain development. As kids learn and master their surroundings, playing helps them develop new competencies that lead to improved confidence and resiliency they will need in the future. Help your kids practice decision-making skills, move at their own pace and discover their own areas of interest, which ultimately engages them in the passions they wish to pursue.
Customer Reviews
My toddlers love this!
My 3 and 1 year old love this indoor gym. We live in Florida and it's been a hot summer now we can play all day regardless of the weather outside!
08/05/2022
Naomi V.

United States
A-
This is a very good learning tool. My daughter is 3 years old. She trips over her own feet sometimes, but she loves to climb and jump. We put her bed in the middle, the settings for the frame are high and she's already doing back and front flips on the rings. The A- grade I gave for the title of this review is because none of the parts were labeled so it took more time to organize than it should've. We had to adjust the assembly to compensate for a full size bed (+ frame), but everything turned out A-Okay ☺️ file:///var/mobile/Library/SMS/Attachments/b9/09/B5A4298A-C831-4F7E-A28E-4EA8F44A9387/IMG_1710.jpeg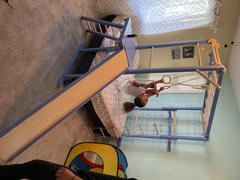 05/03/2022
Jennifer

United States
Better than expected.
We have used the playground for the younger age group and just purchased this one. I was surprised at how much my child likes it. She has been using the rings to practice gymnastic tricks and has been working on the monkey bars. The movable ladder is much harder for her than I realized. This is truly a challenge for her. This is perfect for tiring out my child. She has autism and she is very hyperactive but this gives her a challenge and helps her fall asleep easier. We have a regular outdoor swing set but this is better for her because she likes everything very clean and doesn't like to be outside if it's too hot. This was a much better purchase than expected and we had a great experience with the ezplay for younger kids. I also Purchased the mat.
04/22/2022
Jin C.

United States
Awesome Playset
The product is great. My son loves it. He is a little shy and unsure about this big playset at the beginning. Step by step he becomes braver and explores the different sections. the product is a little pricey. But I do expect my son to play with it for years. The customer service is totally over my expectation. When i first found out there is no live chat/customer service phone number, and only an email address I was a little worried. The customer service from EZplay toys is awesome. Very easy to communicate with a prompt response. Love it.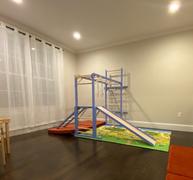 03/07/2022
Wei C.

United States
Great play structure
My son is about 2y3m and he enjoys playing with his "indoor playground" daily. We are in the pacific northwest where it rains all the time in winter, so having this guarantees some physical activity during the rainy season. Installation was easy, except the "securing to the wall" part was not very clear in the instructions and the included screws were a bit long. It actually takes up more space than expected (although it can be folded back), so make sure you ask for the detailed measurements (for lower and higher settings) before you buy. But overall, it's a great play structure - quality wood, sturdy and the kid finds it fun.