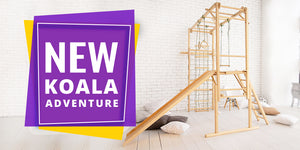 ka
new release
New Koala Adventure Is Out Now
At EZPlay, we're always thinking about how our products can be improved. Since introducing the first Koala Adventure playset, we've been asking parents to provide their feedback on their experience with this indoor playset. After collecting some great stories and suggestions, we've gone back to the draft table to work on a few upgrades. We're now happy to announce that a new version of Koala Adventure is available to purchase.
Overview
Koala Adventure is our wooden playset for older kids, recommended for ages 4-10. It boasts 8 play features in one jungle gym, which can be used for active play, silly fun or healthy exercise. Among them are ladders (both wooden and rope), gymnastic rings, climbing rope, swing, slide, monkey bars and a rope wall net.
This indoor playground is made from ash wood which is known for its durability and use in manufacturing various high quality products. The strength of this material allows it to take the pretty heavy abuse that only a herd of energetic children can provide, although safe play and adult supervision is always recommended.
One of the greatest things about Koala Adventure is that it can be folded up and stored away after the kids are done playing. It takes just a few minutes to disassemble the playground and fold it against it's wall mounts, or to remove the playground from the wall mounts and store it away.
What's New
In this improved version of Koala Adventure, we've focused our attention on stability, safety and additional functionality.
First, we've remade the support of the slide platform. While in the past it was held by ropes, now it's being reinforced by wooden rods adding more safety and permitting more weight to be put on the platform itself.
Second, we've improved the stability of the overall playground by adding a wooden bar to the bottom of the outer side of the playground. Now it takes even more kid kinetic energy to make the entire playground wobble when weight is being swung from one side of monkey bars to another.
Lastly, a great new feature allows your Koala Adventure to be set up in two different height positions for taller and shorter kids, or to accommodate for when your shorter child grows into a taller child. A couple of tweaks and you can adjust your Koala Adventure to fit your child's comfortable playing height.
Bonus: In addition to the structural changes above, we've made some improvements to the wood finishing to make our EZPlay jungle gyms feel much more pleasant to the touch and much more enjoyable to look at.
Features
As mentioned, there are 8 play features available with the Koala Adventure indoor playground:
Slide - probably the most favored playground feature, ever

Swing - for when it's time to daydream while you feel the wind in your hair

Climbing rope - to develop upper body strength and stability

Rope Wall Net - train up for that next obstacle course race

Rope Ladder - develops coordination and agility

Wooden Ladder - to climb up to the slide easily

Gymnastic Rings - Olympic training favorite for superior upper body strength, balance and stunning good looks

Monkey Bars - because monkeying around is just awesome
Specs
We only use water-based paints that are non-toxic and eco-friendly. The durability of ash wood is renowned to professional carpenters and wood manufacturers around the world. All the bolts and screws are tested to withstand major punishment from the weight of up to 120 lbs, and unofficially from the adults in our office during their break times. Solid wall-mounting is especially important with this unit and we recommend following all installation and safety instructions included with the kit.
Summary
When rain, snow, or heat has your kids stuck inside, they can still enjoy a number of exciting  physical activities on the Koala Adventure playground. These new in-demand features make this already popular playset even more fun for your family. With EZPlay Toys, you can provide your kids with exciting indoor play for years to come… while treating yourself to all the great memories of watching them have fun and grow!