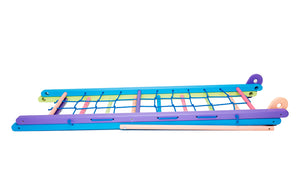 How to Maintain Your EZPlay Kids Play Places To Last For Generations
Almost every purchase suffers from wear and tear after being used for some time. Even the best quality watches, shoes, appliances or toys undergo "aging" when used on a regular basis. In order to make your possessions last as long as possible, you should take care of them properly.
Keep in mind that timber, since it is a natural resource, is prone to splitting. If you keep your wooden play equipment outdoors, the outside elements might lead to premature splitting and the color is very likely to fade. So, the first step to making a playground last for generations is by protecting it from the weather. EZPlay kids play places are made splinter-free and are meant to be used indoors.
Here are some steps you can take to make your playground or jungle gym last for a long time:
Do Regular Hardware Checks
When it comes to performing hardware checks, you should do them on a regular basis. Inspecting these parts is an absolute must once a year. However, you can perform hardware checks even more often.
This really doesn't take much time nor resources and by doing it, you will make sure that your children are safe when playing. In order to do a hardware check, all you need is a wrench and an hour's time.
Inspect all the bolts and screws and tighten them if necessary. Be careful not to over-tighten them since this can damage the wood. In addition, you should inspect all parts for rust since rust can affect the durability of the playground equipment.
Replacements and Cleaning
Indoor kids play places should be kept clean in order to stay looking good as new. In general, wiping down the swings and other parts of the playground thoroughly once every several weeks should be sufficient depending on any stains, dust, or dirt. If you fold and store your playground for a long period of time, consider covering it to avoid dust settling in between parts. 
When it comes to replacing some parts of the play equipment, it should occur whenever you notice the need for it. For example, parts made out of rope or canopy should be replaced as soon as you notice that they are becoming worn out. A swing can be replaced every few years as well. 
Other Tips for Kids Play Places Maintenance
Maintaining your EZPlay wooden playset doesn't require much time and, as you've noticed, most of it can be done annually. Here are some other tips that will make play equipment last for generations.
Even though it is enough to do a thorough maintenance once a year, you should make sure to check some parts of your child's play equipment on a monthly basis. The following items should be inspected regularly:
swings
cargo net
rope ladder
chains
nuts
bolts
and all the moving parts.
You should also make sure to inspect the slide every now and then. The sliding surface should always be smooth and intact. If you notice that the slide or a climbing frame wiggles, then you should check the anchors as well as screws and bolts.
Make sure that swing hooks, rope locks, and anchors are always tight and in place, and protect them from rust. As you can see, maintaining indoor kids play places doesn't require much hard work.
Every year, you can mark one day in the calendar to remind yourself about the upkeep of your child's play equipment – thorough cleaning, and making some replacements if necessary. If sometimes you don't feel like doing it, remember that maintaining children's playground doesn't only have to be a chore. If you do it together with your children it can turn into a learning experience and an opportunity to bond with your family.